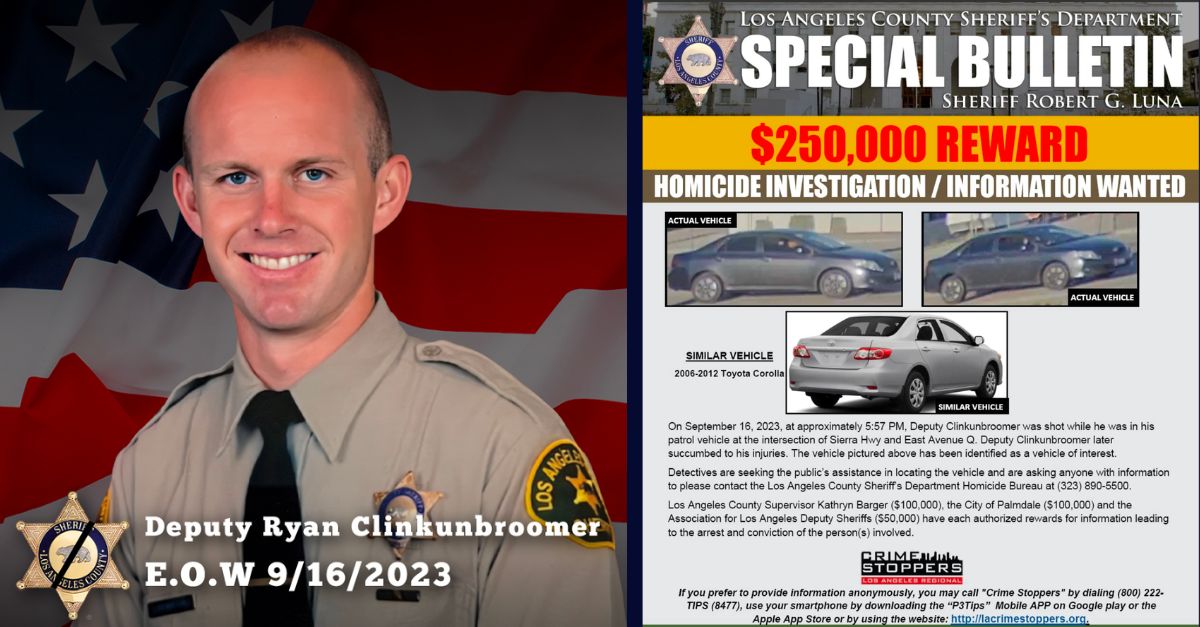 https://www.dailywire.com/news/targeted-act-l-a-county-sheriffs-deputy-shot-and-killed-in-ambush-attack-officials-say
A Los Angeles County sheriff's deputy was fatally shot while sitting in his patrol cruiser on Saturday evening in what officials are calling a "targeted act" against law enforcement.
Deputy Ryan Clinkunbroomer, 30, was sitting in his cruiser near the Palmdale, California, station on Saturday when he was ambushed by an unidentified attacker who shot him in the head, according to a report from the Los Angeles Times. Clinkunbroomer was found unconscious at roughly 6 p.m. by someone passing by and was rushed to the hospital, where he succumbed to his injuries. The Sheriff's Department initially reported that Clinkunbroomer had been "found in medical distress in front of" the Palmdale station.
"I think it was a targeted act based on what we know now, but we're still in the extremely early stages of this investigation," Los Angeles County Sheriff Robert Luna said in a press conference late Saturday night. "It could have been just the fact that he was representing the Los Angeles County Sheriff's Department as one of our employees. We don't know."
A suspect has not been identified.
According to the Times, which reviewed unreleased surveillance footage of the attack, a black car slowly pulled up next to Clinkunbroomer's cruiser, briefly stopped, and then sped off. Deputy Clinkunbroomer's vehicle then "drifts forward a foot or two and stops moving," the report said. Sheriff Luna says homicide investigators are still analyzing the footage.
Police have not released any information on what may have led to the shooting, but Luna assured residents the assailant would be found.
"Every resource that the Los Angeles County Sheriff's Department has to bear is going after you," Luna said. "We need to get this guy off the street – guy or guys. He's a public safety threat. He ambushed and killed – murdered – one of our deputies," he later added.
CLICK HERE TO GET THE DAILY WIRE APP
Clinkunbroomer was an eight-year veteran of the department and a third-generation law enforcement officer, according to the sheriff. He transferred to the Palmdale station in 2018, where he worked as a field training officer for a year and a half.
He became engaged just four days before the tragedy occurred, according to Luna. "He was just starting his life," Luna said.
"Service was running through his veins. He embodied the values of bravery, selflessness and was committed to justice," the sheriff wrote in a Facebook post. "Our deputy was a devoted family member and a cherished community member. He was cowardly shot while working tirelessly to serve our community this evening."
The sheriff asked anyone with information on the shooting to call homicide investigators at (323) 890-5500.
According to a report from the Fraternal Order of Police, 101 law enforcement officers have been shot in 83 separate ambush-style attacks in 2023 as of early September. Fifteen of those officers were killed by gunfire, the report notes.