Syncrude upgrader that processes 350,000 barrels a day is down

Monthlong outage seen hurting output at Suncor, helping rivals
The shutdown of a key oil-sands facility in Canada is flipping the global oil market on its head and slamming shares of producers that depend on the plant.
Just as OPEC and allied producers agreed to pour more oil into global markets, a transformer
blast
first reported by Bloomberg News last week cut power to Alberta's giant Syncrude plant, which turns heavy crude into synthetic light oil for U.S. markets.
As less oil flows from up north, traders are paying a record premium for crude at America's biggest distribution hub in Cushing, Oklahoma. Globally, the gap between Brent crude and West Texas Intermediate is narrowing rapidly after widening for months.
Goldman Sachs Group Inc.
called the shutdown the most dramatic event in the oil market last week, as opposed to OPEC's meeting in Vienna. Shares of
Suncor Energy Inc.
, which controls the plant, plunged the most in more than two years.
"Syncrude is very important. It's one of the longest-standing and longest-lifespan systems going," said Tim Pickering, founder and chief investment officer at Auspice Capital Advisors. "So having those barrels off, which are considered base barrels for the system, is fairly impactful.''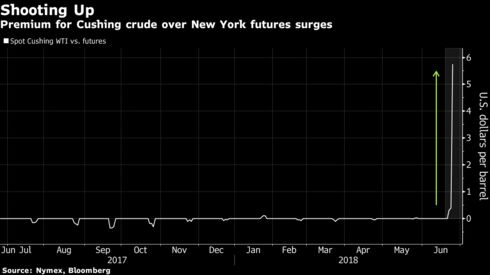 The 350,000-barrel-a-day facility, one of the biggest of its kind in the world, is going to be out of commission until the end of July, the company said.
The expected shortfall in supplies follows five straight weeks of shrinking inventories at Cushing, the delivery point for WTI contracts. The price for the U.S. benchmark for immediate delivery at the hub, which is typically equal to futures on the New York Mercantile Exchange or just a few cents different, surged to an unprecedented $5.75 a barrel more on Monday.
The disruption is helping set the U.S. apart from the rest of the world and intensifying a U-turn in the dynamics of the global market.
While
Saudi Arabia's push
to make sure OPEC boosts supplies by close to 1 million barrels a day is strongly weighing down on Brent crude futures in London, the shortage in Canada is supporting U.S. prices. That's helping narrow the gap between the two benchmarks, reversing months of widening when the focus was on record production from shale fields. It has global implications because the premium helps buyers around the world decide whether to ship crude from the U.S. or elsewhere.
Brent traded at less than $8 dollars above WTI on Monday, compared with almost $12 just two weeks ago.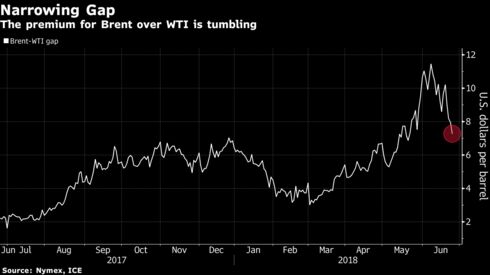 In Canada, the outage is pummeling shares of Suncor, which owns a 59 percent stake in the operation. Having the facility down through July could cut Suncor's third-quarter production to about 770,000 barrels a day, short of the 812,000-barrel analyst consensus, Tudor Pickering Holt analysts said in a note.
Suncor slid as much as 4.6 percent to C$50.88 in Toronto, the biggest intraday decline since February 2016.
Imperial Oil Ltd.
, which owns 25 percent of Syncrude, slid as much as 1.5 percent. The remainder of the operation is owned by China Petroleum & Chemical Corp., which holds 9 percent, and
CNOOC Ltd.
's Nexen, which owns about 7 percent.
Last week's outage is just the latest mishap at Canada's second-oldest oil-sands mine, which started operation in the mid-1970s and has faced reliability issues in recent years. The plant last month underwent scheduled maintenance that took longer than expected.
"If you consider how vast these operations are, you're going to have these things happen from time to time," Pickering said. "It just shows you how on-the-margin the system is.''
— With assistance by Michael Bellusci, and Catherine Ngai