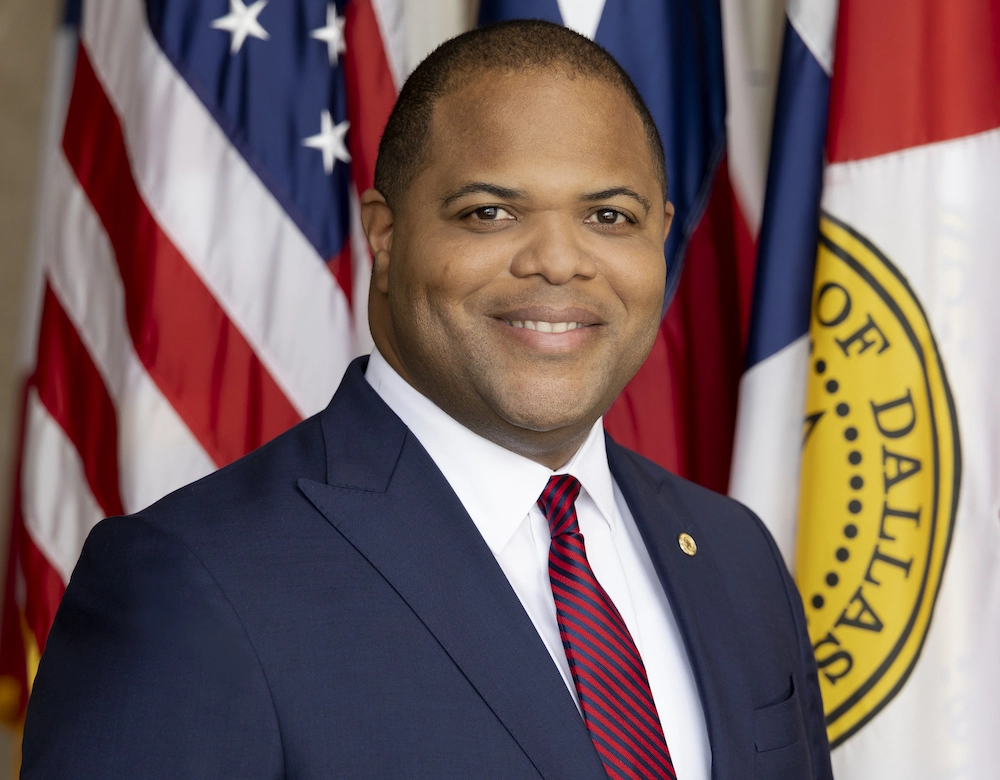 https://www.dailywire.com/news/longtime-democrat-dallas-mayor-switching-to-gop-american-cities-need-republicans
Democratic Dallas Mayor Eric Johnson announced in a Wall Street Journal op-ed Friday that he will switch his party affiliation to Republican.
Johnson, who served nine years as a Democrat in the Texas Legislature before being elected mayor in 2019, wrote that "American cities need Republicans — and Republicans need American cities."
"I have no intention of changing my approach to my job. But today I am changing my party affiliation," Johnson added. "Next spring, I will be voting in the Republican primary. When my career in elected office ends in 2027 on the inauguration of my successor as mayor, I will leave office as a Republican."
Republican Texas Governor Greg Abbott celebrated Johnson's decision to leave the Democratic Party and join the GOP. While Johnson's position is technically nonpartisan, his party switch makes Dallas the second major Texas city to be led by a mayor affiliated with the Republican Party along with Fort Worth, The Texas Tribune reported.
"Texas is getting more Red every day. Dallas Mayor Eric Johnson switches to Republican Party," Abbott said. "He's pro law enforcement & won't tolerate leftist agendas. Two of the 10 largest cities in America now have Republican Mayors & they are both in Texas."
Johnson pointed to "law and order" and "fiscal conservatism" as major factors that convinced him the platform of the Republican Party was better suited to lead Dallas and other U.S. cities forward. The city has seen a recent rise in violent crime after two years of violent crime rates going down while the Dallas Police Department has faced staffing shortages following the anti-police sentiment that gained traction following the death of George Floyd in 2020.
"I don't believe I can stay on the sidelines any longer," Johnson wrote. "I have always tried to be honest and say what I think is right for my city. The future of America's great urban centers depends on the willingness of the nation's mayors to champion law and order and practice fiscal conservatism. Our cities desperately need the genuine commitment to these principles (as opposed to the inconsistent, poll-driven commitment of many Democrats) that has long been a defining characteristic of the GOP."
The Dallas mayor said Democratic policies have led to the "disarray" of many cities across the country as places like New York City, Chicago, and Philadelphia face spikes in violent crime.
CLICK HERE TO GET THE DAILYWIRE+ APP
"Mayors and other local elected officials have failed to make public safety a priority or to exercise fiscal restraint. Most of these local leaders are proud Democrats who view cities as laboratories for liberalism rather than as havens for opportunity and free enterprise," Johnson wrote.
"Too often, local tax dollars are spent on policies that exacerbate homelessness, coddle criminals and make it harder for ordinary people to make a living," the mayor added. "And too many local Democrats insist on virtue signaling — proposing half-baked government programs that aim to solve every single societal ill — and on finding new ways to thumb their noses at Republicans at the state or federal level. Enough. This makes for good headlines, but not for safer, stronger, more vibrant cities."