https://www.zerohedge.com/energy/wti-holds-gains-after-biden-admins-9th-straight-weekly-spr-drain

Oil prices have been choppy overnight, since API reported a big surprise crude build, with WTI hovering around $68. China's factory activity and the OPEC+ meeting over the weekend in Vienna to discuss the group's production policy are weighing on traders' minds, as US debt ceiling doubts fade.
"Today the market will look to US weekly inventory data and in particular the pace of Strategic Petroleum Reserve selling last week," said Jens Pedersen, director of oil and commodities research at Danske Bank.

"Oil prices are stabilizing after better-than-expected Chinese PMIs and a halt in the recent dollar rally," he added, referring to the purchasing managers' index, a measure of economic activity.
The big question is whether the official data will confirm API's big build...
API
Crude +5.2mm (-5.1mm exp)

Cushing +1.777mm

Gasoline +1.89mm (-900k exp)

Distillates +1.849mm (+500k exp)
DOE
Crude +4.49mm (-5.1mm exp)

Cushing +1.63mm

Gasoline -207k (-900k exp)

Distillates +985k (+500k exp)
The official inventory data confirmed API's report that crude stocks rose significantly last week - after the massive draw the prior week. Cushing stocks rose for the 6th straight week. Gasoline stocks fell very modestly...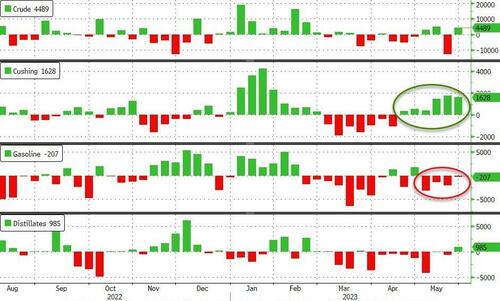 Source: Bloomberg
For the 9th straight week, the Biden admin drained the SPR last week...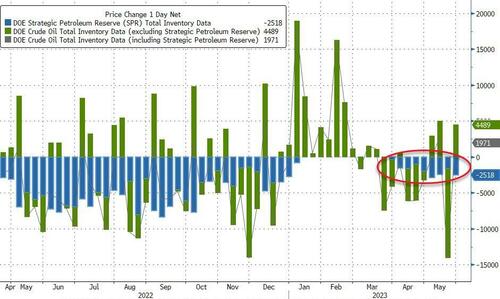 Source: Bloomberg
US crude production remains flat at cycle highs despite the ongoing slide in rig counts...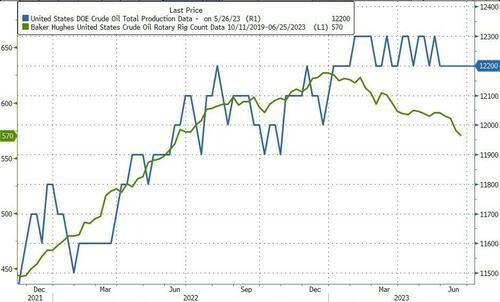 Source: Bloomberg
WTI rallied up to $69 ahead of the official inventory data and extended those gains...
Finally, we note that US demand for oil and diesel was more robust in March than previously thought, but remained below levels seen at the same time a year ago.