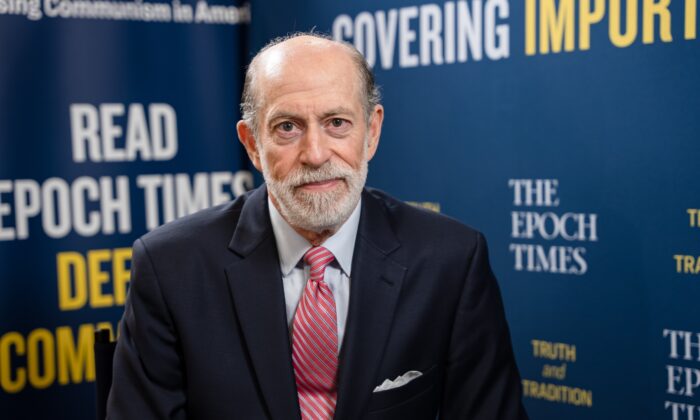 Frank Gaffney, executive chairman at the Center for Security Policy and the co-author of the new report, "The CCP is at War with America," at CPAC on Aug. 6, 2022. (Otabius Williams/The Epoch Times)

https://www.theepochtimes.com/official-hints-at-intelligence-chinese-spy-balloon-might-seek_5036821.html?src_src=uschinanoe&src_cmp=uschina-2023-02-08&est=Om5%2FATwI3gq3xkwUFuGO4sGLDx2DhJq9AMnq41akU%2BjpoBOyQ9vpKW%2BiMT3kHMHKa1qVsg%3D%3D
An expert has hinted at the intelligence that the CCP might have been seeking to gather by sending its spy balloon over to the United States last week.
Frank Gaffney, executive chairman at the Center for Security Policy, told NTD's "China in Focus" program, The Epoch Times' sister media outlet, that the CCP might have a keen interest in monitoring communications in those silos.
The Chinese balloon was first sighted above Montana, a state that houses intercontinental ballistic missile (ICBM) silos, earlier last week. A top Pentagon official said on Feb. 3 that the balloon flew at 60,000 feet (18,300 meters), had the ability to maneuver, and changed course at some point during its flight, although he didn't specify when.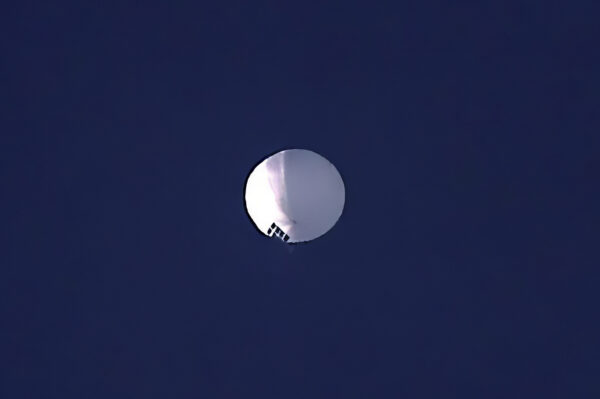 What spurs on the action of the communist regime, Gaffney said, could be "the level of alert status on those sorts of things that could be relevant to calculations about their own military ambitions, whether it's with respect to Taiwan, or perhaps helping the Russians in Ukraine, which the Chinese are doing a lot of."
The think tank head raised a question on whether the communist regime is doing the same thing in Taiwan, with an aim at "desensitizing us to behavior that we should be very concerned about."
War Warning
Air Force Gen. Mike Minihan said that he anticipated fighting between China and the United States to break out by 2025, in a memo leaked in late January.
Minihan wrote to the leadership of its roughly 110,000 members, saying, "My gut tells me we will fight in 2025."
Gaffney pointed to the general's warning saying, the path of the Chinese spy balloon over the United States might be a premonition of a potential war between America and China.
"This episode with the balloon, I have the feeling, has been reinforcing that perception," Gaffney said in an interview set to be aired on Feb 6.
He believed that the warning is very important as it would urge the Air Mobility Command to take "these orders to heart and do what they can to up their readiness to train more effectively, and to operate in a manner that will help contribute to deterrence of the Chinese Communist Party so this war does not actually take place."
"And as importantly, I pray that other senior officers in our military will be deciding this is in fact necessary within their commands as well. And if that's the case, then there's a chance that the Chinese will be persuaded that they don't actually think they can have their way with us, which I fear is what they're thinking now," he added.
Deter the CCP
The official laid out steps that concerned citizens can follow to deter the CCP.
Gaffney pointed to billion dollars of United States pensions, retirement, and investment funds pouring into the Chinese economy, which he said, "are helping build the weapons that the People's Liberation Army is obtaining to kill our servicemen and women, and maybe the rest of us as well."
Many state governments in the United States have invested their pension funds with BlackRock, the world's largest investment manager. According to a 2021 report (pdf) from Consumers' Research, Washington, Florida, and New York were the top three investors, investing $13.8 billion, $10.7 billion, and $9.8 billion, respectively,
The report also warns about BlackRock putting investors' money in Chinese companies with ties to the Chinese military, such as China's biggest chipmaker, SMIC.
Gaffney called for the American people to cut off the funds by going to the people managing their money and saying: "I don't want my money in China."
"If China does go to war against our country, [which] I think it's a pretty certain bet, none of that money that we've put in China is coming back," he said.
They could also urge their representatives to find out how much money had been "put into the CCP's coffers through these investments and end it at once."
The concerned representatives, he said, should make it clear to Wall Street that "there must be no more going that way and bringing back what has gone."
Frank Fang contributed to this report.