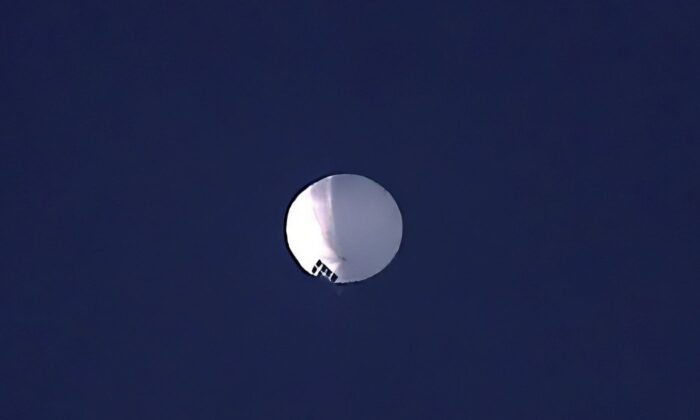 A high altitude balloon floats over Billings, Mont., on Feb. 1, 2023. (The Canadian Press/The Billings Gazette via AP-Larry Mayer)

https://www.theepochtimes.com/chinese-spy-ballon-shot-down-falling-toward-atlantic_5034316.html
The Chinese surveillance balloon drifting east toward the Atlantic Ocean has been shot down by the U.S. military and is now falling into the sea, video shows.
The news came shortly after the Federal Aviation Administration grounded flights in three airports in the Carolinas as the Chinese surveillance balloon makes its way eastward past these states, citing "national security" needs.
"The FAA has paused departures from and arrivals to Wilmington (ILM), Myrtle Beach International (MYR) and Charleston International (CHS) airports to support the Department of Defense in a national security effort," the agency said in a statement on Feb. 4. The pause was to stay in effect until at least 2:45 p.m.
Television footage showed the balloon exploding before dropping toward the water around 2:40 p.m. U.S. military jets were visible flying in the vicinity, and ships were deployed in the water preparing for the recovery operation.
President Joe Biden earlier on Saturday broke the silence on the balloon, telling reporters that "we're gonna take care of it."
Several news outlets have also cited anonymous officials saying that Biden has greenlighted a plan to shoot down the balloon once it's above the Atlantic Ocean. Biden had mulled over taking the step on Tuesday when officials first briefed him on it, but decided against it after Pentagon officials, including Secretary of Defense Lloyd Austin, Army General Mark Milley, and commander of United States Northern Command Gen. Glen Vanherck all voiced strong objections by pointing to the potential harms to civilians on the ground, White House press secretary Karine Jean-Pierre told reporters on Friday.
"We are tracking closely and keeping all options on the table," she said.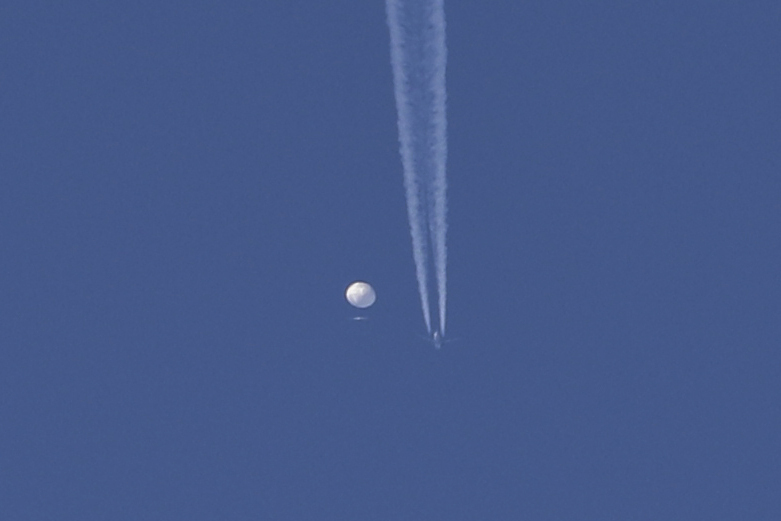 The balloon, described by U.S. officials as a "high altitude surveillance balloon," has attracted rising attention since it was spotted above an airfield in Montana, one of three U.S. states where the nuclear missile fields are based. Pentagon spokesperson Brig. Gen. Pat Ryder late on Friday confirmed the presence of a second Chinese balloon flying over Latin America.
It drifted over Asheville, North Carolina, and then near Charlotte on Saturday morning.
U.S. officials previously estimated its size at about three school buses, flying at about 60,000 feet.
The balloon's incursion has ignited alarm in Washington, with members of Congress questioning why the balloon has been allowed to stay in the air.
The ill-timed balloon incident also forced Secretary of State Antony Blinken on Friday to postpone a scheduled trip to Beijing.
On late Friday, a spokesperson for Sen. Chuck Schumer (D-N.Y.) said the Biden administration will hold a classified briefing with the four congressional leaders from the House and Senate and the chairs and ranking members of the House and Senate Select Committees on Intelligence over the balloon incident following the request of House Speaker Rep. Kevin McCarthy (R-Calif.).