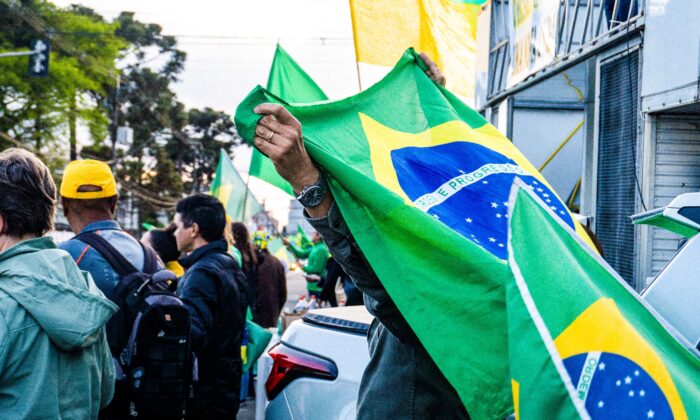 A Brazilian protester holds a flag in Curitiba, Brazil, on November 4, 2022. The country, Latin America's largest economy, has many taking to the streets, after historical elections spark controversy. (Frederico Vidovix/The Epoch Times)

https://www.theepochtimes.com/mkt_app/my-son-will-not-live-in-a-communist-country-inside-the-brazil-election-protests_4846852.html
CURITIBA, Brazil—A family sits around a small makeshift fireplace. They have been camping there on shifts for days, nearly a week. That was the scene for Luiz Henrique and his relatives on Friday, as they, in their own words, reject the prospect of the country going back to what it was under the Workers Party, which now has led Lula da Silva to a new term. The left-wing candidate was Brazil's president from 2003 to 2010, and won a run-off vote by a razor-thin margin on Oct. 30, over a decade after leaving office. His inauguration is scheduled for January.
Henrique's family is not an isolated case. Hundreds of families have set up tents around the Pinheirinho fortress, in the city of Curitiba. More are protesting around army headquarters throughout the country. Most there call for aid, or intervention, from the military, many cast doubt on whether the elections were free and fair, and some just say they're hoping for a last chance not to have Brazil go the way of neighboring socialist governments in Venezuela, Argentina, and beyond.
Henrique and his family drink "maté," also known as "chimarrão," a traditional drink of Latin America's southern cone.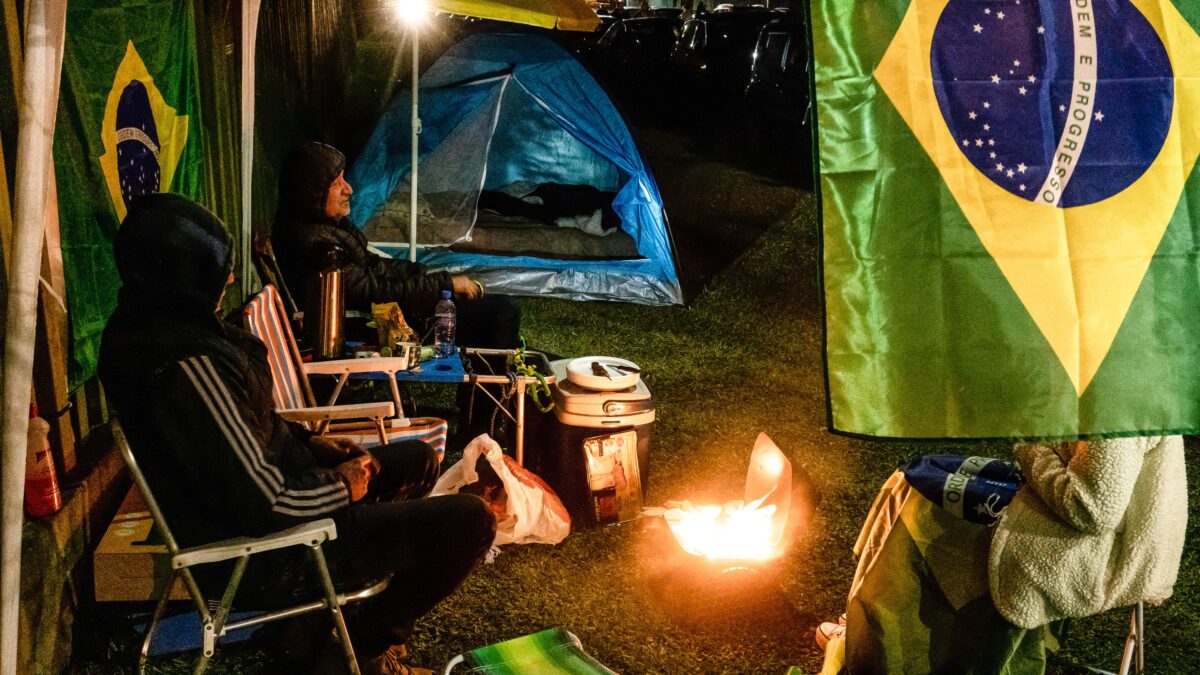 "What we want… I have children. I have grandchildren. We don't want them to suffer what countries around us are suffering, and what we're seeing every single day. We don't want Brazil to go through that as well," Henrique said.
He explained: "We're here 24 hours, every day, since this movement started on Monday. We have been taking turns, me and my relatives. Some of us have businesses to run, some have day jobs. Some stay in the morning, some in the afternoon. We [right now] are on the night shift. We coordinate among our family. … At least our family… we're playing our part, like most Brazilians are."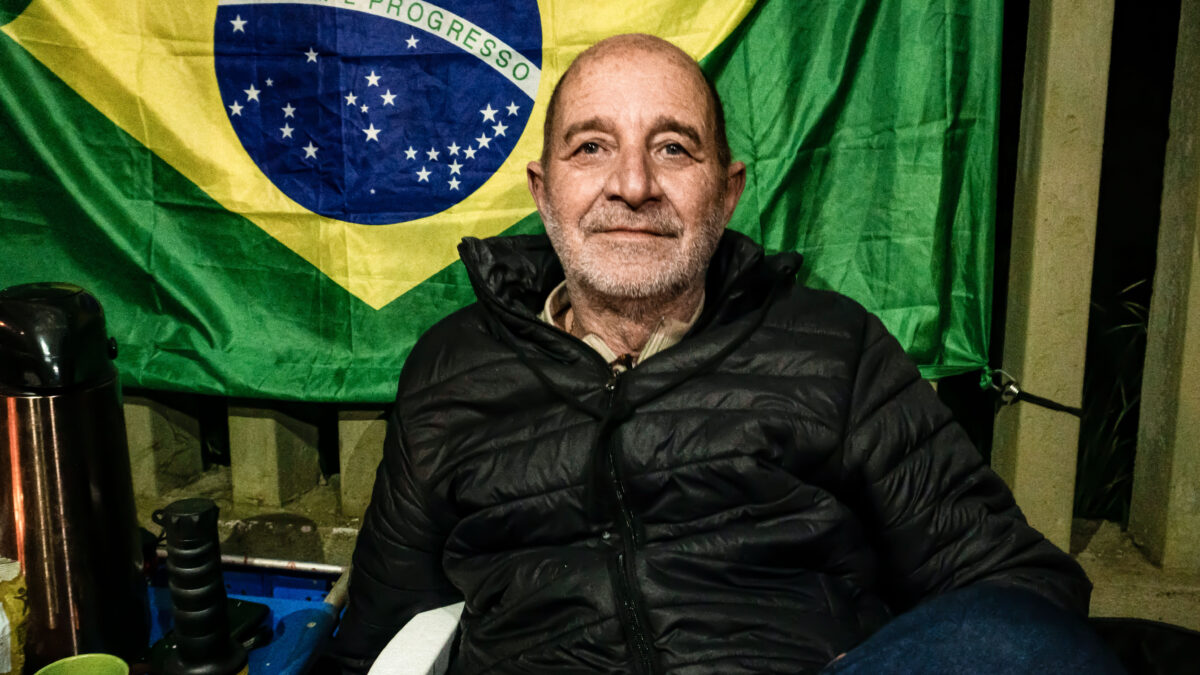 Da Silva has befriended, and eventually supported, a number of Latin American socialist dictators. Among them are Venezuela's Nicolás Maduro, and Nicaragua's Daniel Ortega, whose persecution of Christianity and the press was a talking point of the presidential debates in the run-up to the October elections. Da Silva was elected in an alliance with the Communist Party of Brazil, and the possibility of him leaning into authoritarianism or stifling free enterprise has been a cause for concern.
"We're in a situation where you either do [something now], or you won't do it ever again," another protester told The Epoch Times. "The hard part is: what if you don't do [something] and then our country becomes like Venezuela? Not to say anything bad about Venezuela, but they are now facing poverty due to letting [the hard-left] take over."
On Nov. 2, during the "Finados" national holiday, hundreds of thousands of people came out to protest throughout Brazil. Interviewees quoted police data saying up to 170,000 more joined them in the city of Curitiba alone. More were there during the weekend—a trend unlikely to end soon, with strikes starting on Nov. 7.
Some called it a struggle for freedom.
"My son will not live in a communist country. My son was born to be free," said Fernanda, as she hugged her son, school-aged Joaquim. "Our country was born to be free! And that's why I brought him here. That's why I'm here. My country will not have a red flag. It is not possible to live in that type of country. That's why I'm here fighting for my homeland, and for his freedom."
The boy accompanied his mother to the protests, calmly observing the concerned adults around him.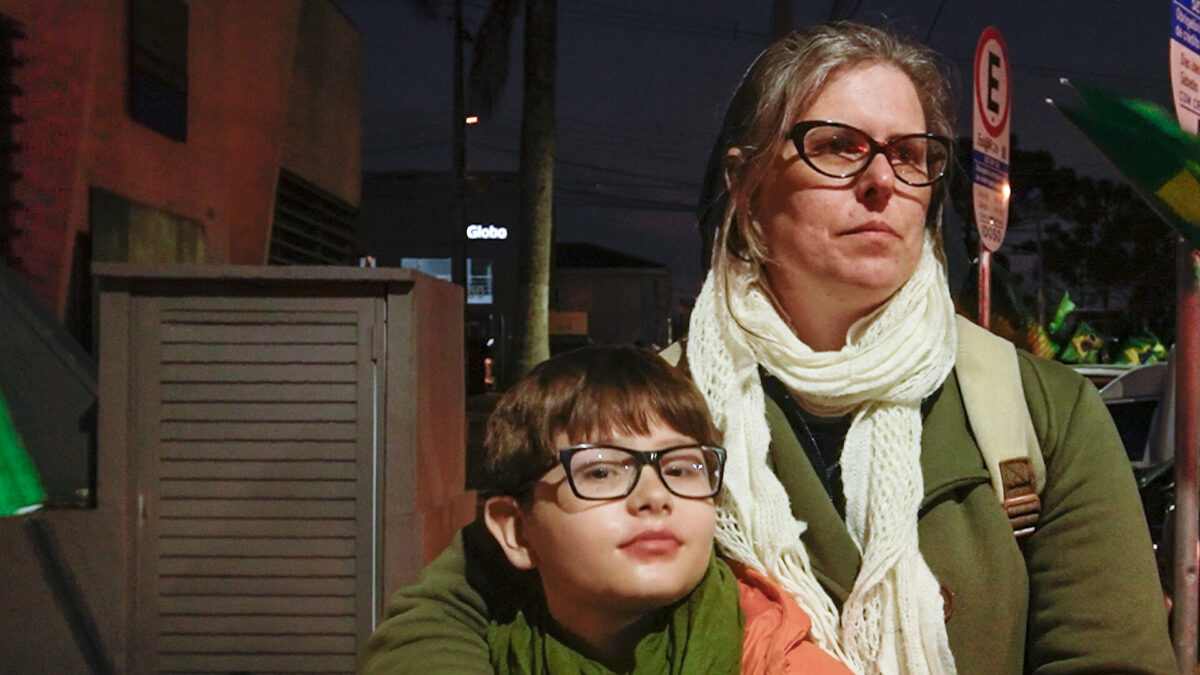 'Not a Single Case of Vandalism'
Protesters say they are lawfully exercising their constitutional right to protest and are financially supporting themselves and are also receiving donations from others who support their cause.
"We haven't had a single case of theft, not a single case of vandalism, not even in a single car, no fights on record here. Nothing," said Ivo, one of the early organizers of the 24/7 protests in Curitiba. "This is a pretty democratic action. Children, the elderly, and families are here. And nothing goes on. Businessmen are helping us, … and ordinary people are as well."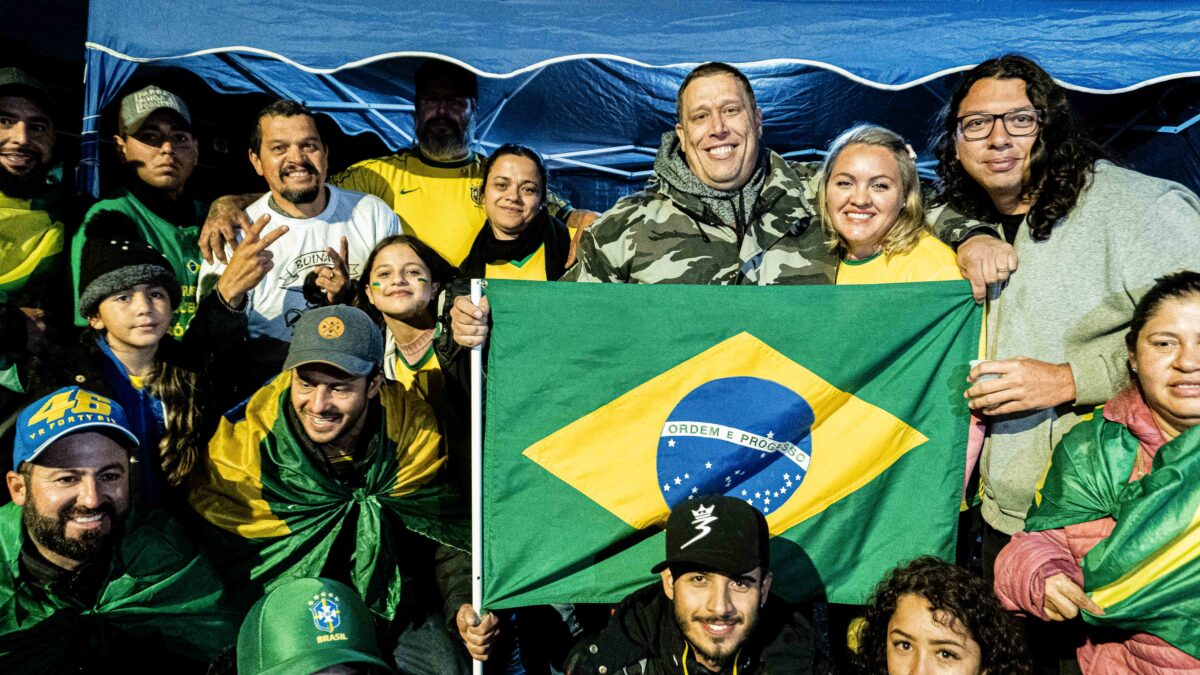 Legal experts, local left-wing politicians, activists, and others have called the protests "illegal" and "anti-democratic," and said that an intervention by the armed forces that could overturn election results would violate Brazil's Constitution and institutions. The claims were denied and dismissed by the protesters, who said they were orderly and peaceful and hadn't committed any crime.
Claims of Illegitimacy on the Electoral Dispute
Protesters told The Epoch Times they feel this was not a fair electoral process. A shared concern was da Silva's past. After being convicted on corruption and money laundering charges, penalties against him were voided by Supreme Court Justice Edson Fachin—not by proof of his innocence, but on procedural grounds. Fachin was nominated by Lula's presidential successor, former communist guerrilla Dilma Rousseff, and campaigned for the Workers Party before taking on his duties.
"We want to show to the powers of the republic we're not in agreement with the way this electoral process was run, and with the way the winner achieved victory," said Eiko, one of the protesters, as he held a Brazilian flag along with his wife in front of a military building.
"At many points we noticed one of the candidates had more access to free speech than the other did, this is what we are questioning," he added. "It's not about the result. There's always a loser and a winner. But the point is the way this played out."
After Lula's release, conservatives claim a level playing field is hardly what was seen in Brazil. Leading news outlets faced pressure—at best—and, as the targeted media companies themselves put it, censorship, to specifically not report on da Silva as a convicted criminal or on his historical and well-documented ties with Latin American dictatorships.
This pressure from Brazil's Electoral Court contributed to a feeling of distrust in the local justice system among the crowds gathered. The country's Electoral Court oversees elections and shares many of its members with the Supreme Court that got da Silva back to politics.
Contributing to the tension in Brazil, on Friday a press conference was broadcast from Argentina explaining an independent audit showed there were statistical anomalies that could point to fraud in the October vote. Electoral Court president and Supreme Court Justice Alexandre de Moraes has threatened to consider challenges to the election results as criminal. Those broadcasting the press conference said this was part of the reason for broadcasting from Argentina. Protesters told The Epoch Times they are concerned about voter fraud.
Reports about the audit sparked controversy in Brazil, with experts and supporters of da Silva dismissing them as baseless or misleading. Suppression and censorship, along with unwillingness among Brazilian institutions to broach the topic have increased dissent, according to the protesters.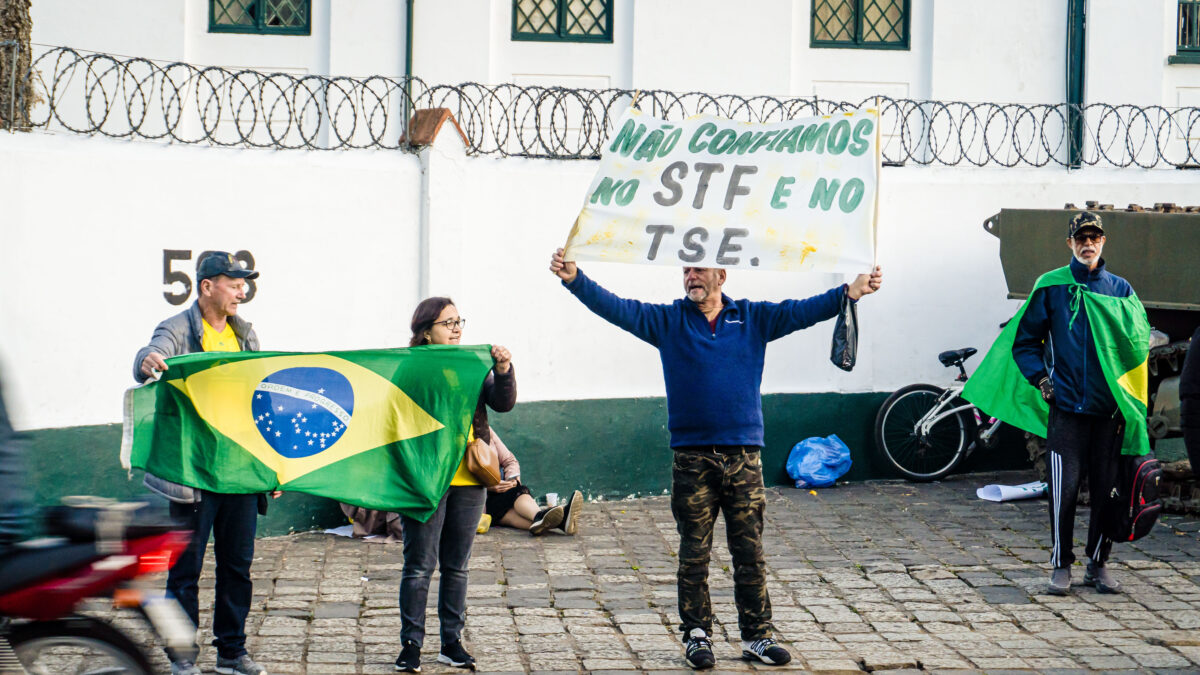 Concerns About Press Coverage
As The Epoch Times reporters moved through the crowds they were asked by locals to have the "truth be told" about the protests. Distrust in the press, local and foreign, was widespread. Slogans were displayed in English for the international press.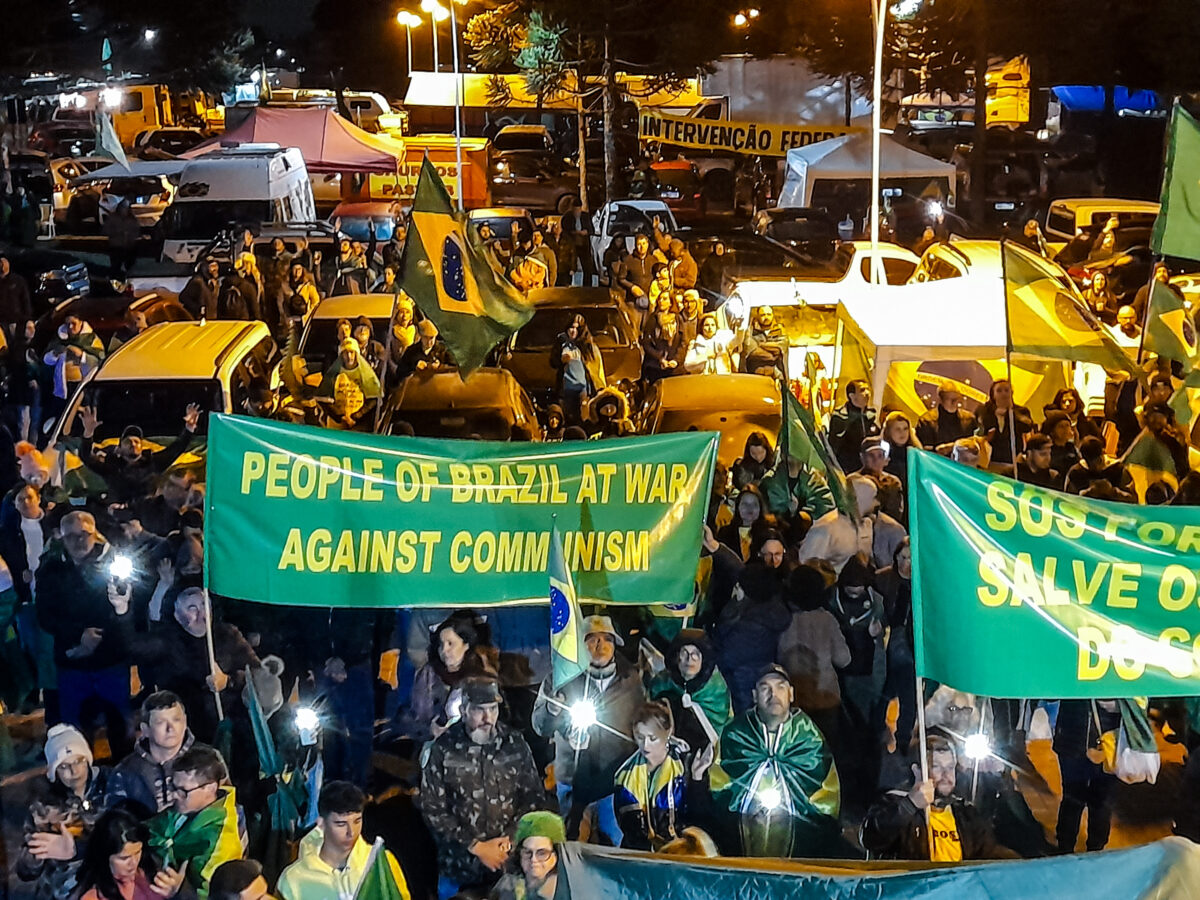 "Where are we heading, if this becomes a communist [country]?" said one protester. "Where are my grandchildren headed? What is gonna happen to everyone? We're already under communism, actually. We're being silenced. We can't say anything. We depend on foreigners to be able to express what is happening here."