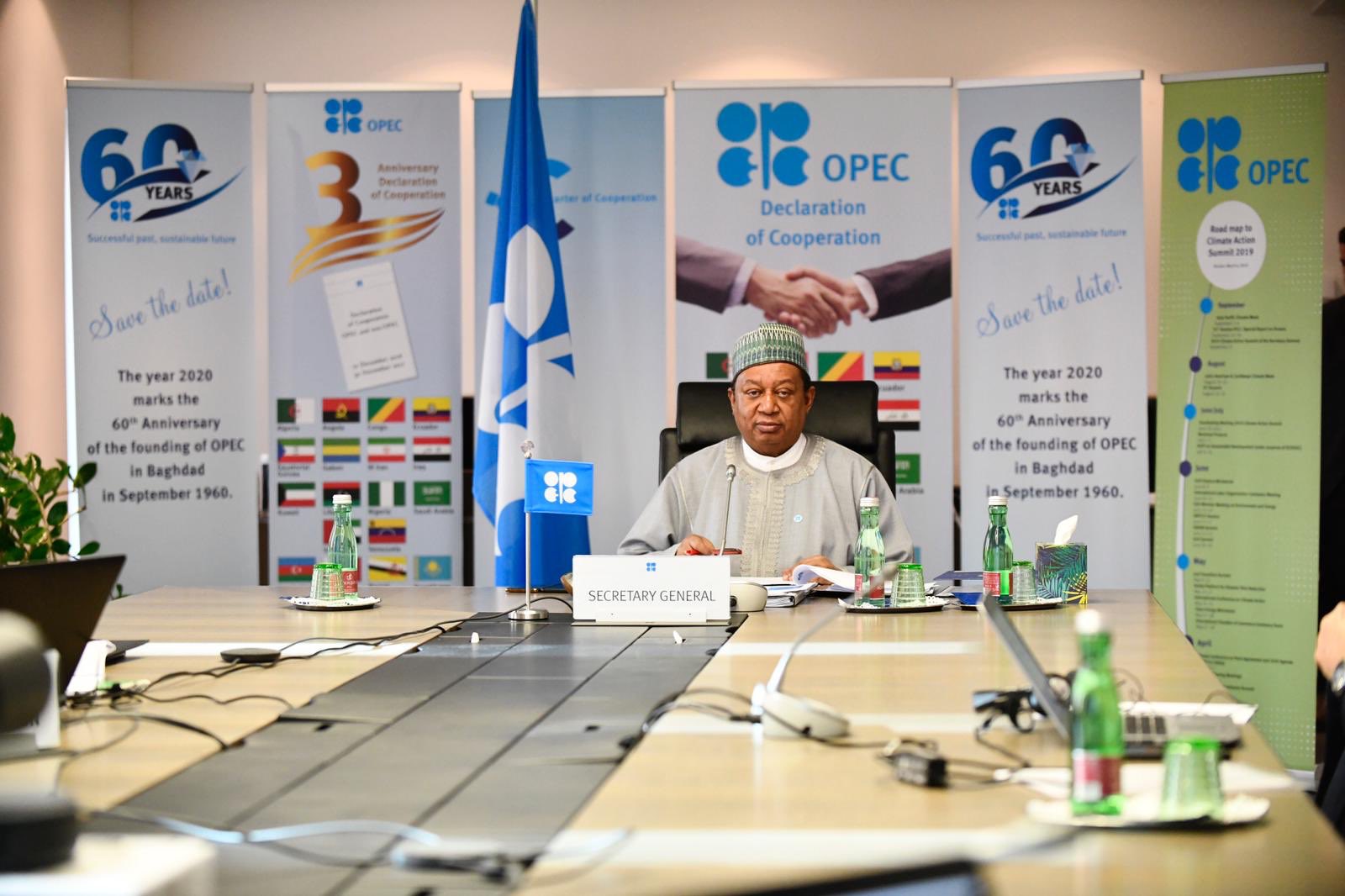 https://www.cnbc.com/2020/04/09/oil-and-coronavirus-opec-meeting-to-decide-on-historic-output-cuts.html
An emergency video meeting between OPEC and non-OPEC partners, sometimes referred to as OPEC+, started shortly after 4:10 p.m. Vienna time.
Energy ministers from the Group of 20 (G-20) major economies will convene for their own extraordinary meeting on Friday.
International benchmark Brent crude traded at $34.12 a barrel Thursday afternoon, up almost 4%, while U.S. West Texas Intermediate (WTI) stood at $26.18, around 4% higher.
Some of the world's largest oil producers will try to agree on the terms of historic output cuts on Thursday, as the coronavirus pandemic continues to crush worldwide demand for crude.
An emergency video meeting between OPEC and non-OPEC partners, sometimes referred to as OPEC+, started shortly after 4:10 p.m. Vienna time.
WTI futures had jumped 12% shortly after Reuters, citing one unnamed OPEC source and one unnamed Russia source, reported OPEC+ had secured a deal — one that could climb as high as 20 million barrels per day (roughly 20% of global supplies).
Oil prices pared most of their gains as the meeting continued, with energy analysts highly skeptical about the reported scale of the production cuts.
A simmering feud between OPEC kingpin Saudi Arabia and non-OPEC leader Russia is thought to be one of many possible complications to an unprecedented production cut.
Saudi Arabia and Russia, who fell out when a previous pact to curb supply broke down last month, have signaled that any decision would depend on the U.S. and other non-OPEC producers joining in.
Trump has shown no appetite to mandate such a policy but suggested earlier this week that oil production in the U.S. had already fallen.
Energy ministers from the Group of 20 major economies will convene for their own extraordinary video conference on Friday.

The G-20 presidency said Tuesday that the meeting would be held "to foster global dialogue and cooperation to ensure stable energy markets and enable a stronger global economy."

OPEC+ hopes to persuade non-OPEC producers present at the G-20 meeting, such as the U.S., Canada, Norway and Brazil to participate in oil production cuts. Saudi Arabia, OPEC's de-facto leader, holds the rotating G-20 presidency this year.
Record cuts still not enough
"Assuming that a deal is reached — our base case now — the key question will be whether its size and timing will improve global oil balances sufficiently to support prices above current levels," analysts at Goldman Sachs said in a research note published Thursday.

"This is key, as a cut that would prove too little too late would lead to storage saturation and additional necessary production shut-in, with distressed producers driving physical crude prices and spot oil prices sharply lower."

"Our updated 2020 global oil balance suggests that a 10 million barrels per day headline cut would not be sufficient, still requiring necessary price induced shut-ins on top of such voluntary curtailments," they added.
Bjarne Schieldrop, chief commodities analyst at SEB, told CNBC via email that he expects a deal to either fall apart, or for the assumed 10 million barrels per day production cut to be a medium-term target.

"We don't expect anything will be decided before the G-20 meeting," Schieldrop said, partly because the OPEC+ meeting had been "instigated" by President Donald Trump.

"If the G-20 cannot deliver on Friday 10 April according to what is required by OPEC+ on Thursday 9 April, then Saudi Arabia and Russia can blame the G-20 and get some political heat from President Trump off their backs," he added.
How did we get here?
The coronavirus pandemic has meant countries around the world have effectively had to shut down, with many governments imposing draconian measures on the daily lives of billions of people.
The restrictions have created an unprecedented demand shock in energy markets, just as a price war broke out between powerhouse producers Saudi Arabia and Russia.
Last month, Saudi Arabia recommended cutting production by 1.5 million barrels per day as the coronavirus outbreak curbed demand.
However, Moscow rejected the proposal, thus bringing an end to the group's three-year production-cutting pact on March 31.
Saudi Arabia, Kuwait and the United Arab Emirates have all since ramped up oil output.