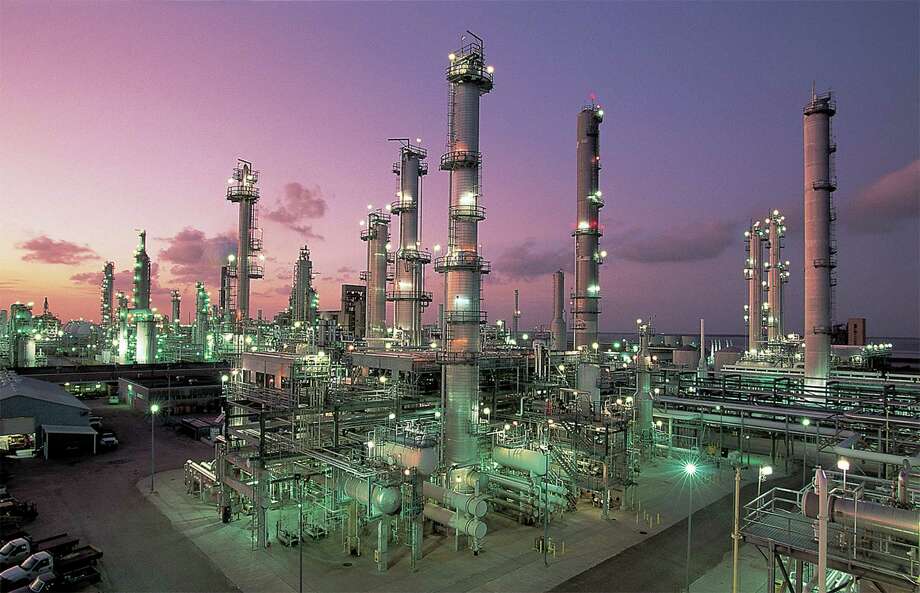 Valero Energy Corp., which operates this refinery in .Corpus Christi, has stopped importing light, sweet crude because of the growing domestic supply. (Valero Energy photo)
In Africa and the Middle East refinery maintenance has been slowing down but news continues to emerge of planned upgrades and new launches, according to S&P Global Platts estimates.

-- The hydrocracker at Cote d'Ivoire's SIR refinery will restart in March 2019, a source at SIR told S&P Global Platts. The hydrocracker has been offline since early 2017 due to a supply outage.

-- Sudan's Khartoum refinery will kick off its maintenance program for 2018 on March 17, with the partial closure for around one month of the crude distillation unit with a nameplate capacity of 50,000 b/d, a source from the Khartoum Refining Company said. The repair works are being done in several stages to limit the reduction in fuel supplied to the local market at any one time. This is to be followed by the full closure of the second CDU, which has a total capacity of 40,000 b/d for 45 days from April 1. The first CDU will then go back into maintenance in September for one month.

-- Libya's National Oil Corporation hopes to finally restart operations at the 220,000 b/d Ras Lanuf refinery before Ramadan in May, sources close to the company said. Restarting refinery operations would also allow NOC to bring Libya's petrochemicals industry back online, producing ethylene and polyethylene, the state-owned company said in statement. The Ras Lanuf ethylene plant has been shut since 2011, while the polyethylene plant was closed in 2013. The statement did not refer to the refinery in the east of Libya itself, but this would need to be restarted for the polymers plants to begin production. They will be fed with naphtha from the refinery. Ras Lanuf was heavily damaged in 2011 during Libya's revolution and subsequent clashes between rival militias.

-- Durban's Engen refinery in South Africa is now fully up and running, the company said. The maintenance started February 5 and in late March was entering a "phased start-up" of its units.

-- Ghana's Tema Oil Refinery (TOR), which had restarted in early January after almost a year, is currently running at 25,000 b/d, and will operate closer to full capacity by the end of the year, a source close to the matter said. Currently, only one distillation unit is running out of the three units, the source added, and once all three are in operation, this should bring the capacity close to the full 45,000 b/d. Meanwhile, the fluid catalytic cracker, was last reported as undergoing maintenance with a relaunch date of April 2018.

-- Saudi Aramco Total Refining and Petrochemical Co. (Satorp) has maintenance on its No.1 CDU from January 8. The works include the Jubail refinery's Train 1, involving a 200,000 b/d CDU. Separately, there was maintenance on a 153,000 b/d hydrocracker, traders said.
-- Sonangol's Luanda is to undergo maintenance work in June and July, the first such works in almost seven years.
-- Sapref, the largest refinery in South Africa, is undergoing "routine maintenance," the company said in early April without providing further details. According to market sources various units are scheduled to have works between April and June, affecting, gasoline and marine fuel. Separately, in November output of marine fuel is to be impacted by maintenance.
-- South Africa's Natref will be undergoing partial works for six weeks in May to June and later in November, industry sources said. Sources said the plant will undergo partial maintenance from May 3 to June 14 which will affect the production of
middle distillates
, bitumen and hydrogen. The plant will also later carry out partial works over November 1-19, affecting supplies of
diesel
, gasoline and bitumen, sources said.
FUTURE WORK
-- Zambia's Indeni refinery has set its next turnaround for September/October 2018. It is currently operating at around 18,000 b/d out of its total capacity of 24,000 b/d, a senior official from the refinery said.

-- South Korea's GS Engineering & Construction Co. has won a contract to repair units at the Ruwais refinery in the UAE damaged in a fire in January 2017. GS said it will restore fire-damaged parts of the oil processing plant at Ruwais by early 2019. ADNOC had initially hoped to restart production from the residual fluid catalytic cracking unit in Q1 2018.
UPGRADES
-- Kuwait National Petroleum Co. will begin commissioning newly installed units by April, once it has completed its Clean Fuels Project to revamp the country's main refineries, Mina al-Ahmadi and Mina Abdullah. It is also considering the addition of two new gas processing units, Kuwait's sixth and seventh, which will boost LPG output, by 2035, KNPC CEO Mohammad Ghazi al-Mutairi told Al-Rai newspaper. -- Abu Dhabi National Oil Co. awarded a contract to Samsung Engineering worth $3.1 billion for a major upgrade of its Ruwais refinery, which will allow it to process offshore crude, freeing up as much as 420,000 b/d of its flagship Murban crude for export. The crude oil processing flexibility project is scheduled to be completed by the end of 2022.
-- Nigeria's four state-owned oil refineries -- two in Port Harcourt and one each in Kaduna and Warri -- are to be shut for a major overhaul to restore production to their combined nameplate capacity of 445,000 b/d. Nigeria is banking on signing the deal for its refinery rehabilitation program by end-April and sorting out the financing in the second quarter, an official from state-owned NNPC said Tuesday. This program is aimed at ensuring that the existing refineries operate at 90% capacity by 2019.
-- Jordan Petroleum Refinery Co. has awarded a contract to US engineer KBR for the design of a new residue hydro-processing unit as part of its expansion of the Zarqa refinery in Jordan.
-- Bahrain Petroleum Co. has awarded a $4.2 billion contract for the expansion and modernization of the Sitra refinery, slated for completion in 2022 and taking total capacity to 360,000 b/d.
-- Iraq has started work on a 70,000 b/d expansion of its Basra refinery, in the south of the country, raising its capacity to 280,000 b/d from 210,000 b/d, with the addition of a fourth crude unit. The oil ministry hopes to complete the new distillation unit by the end of the year. Along with a crude distillation unit, the project, which is being executed by TechnoExport of the Czech Republic, also includes the construction of units for the treatment of NGLs and water, as well as steam boiler and flare system.
-- US engineer CB&I has been awarded a $95 million contract for the expansion and modernization of the 305,000 b/d Saudi Aramco Shell Refinery (Sasref) in Jubail.
-- Iraq's North Refineries Co. is compiling a list of international equipment suppliers as the oil ministry prepares to rebuild the 140,000 b/d Salah al-Din refinery, part of the 350,000 b/d Baiji refining complex.
-- Iran plans to modernize Abadan, the country's oldest refinery.
-- Zambia's Indeni refinery is looking for an equity partner as it seeks to boost capacity, a refinery spokesman said.
-- Sonangol is planning to build a fluid catalytic cracker at the Luanda refinery to enable it to produce 1,200 mt/day of gasoline, up from current output of 380 mt/day, Angola's Mining and Petroleum Minister Diamantino Azevedo said. The unit, expected to come online in mid-2021, will meet half the country's demand for the product, reducing the current market deficit, Azevedo said.
-- The Republic of Congo's refinery in Pointe Noire is planning to build a fluid catalytic cracker before 2022, the plant's director said. The move is an effort to reduce its current production of fuel oil from 40% and to meet cleaner fuels standards. It is the only refinery in the Republic of Congo, and it is a key exporter of fuel oil, particularly low sulfur straight run fuel oil, and naphtha in the West African region.
-- Gabon's Societe Gabonaise de Raffinage (Sogara) is seeking a waiver from the government to continue producing high sulfur gasoil after cleaner fuels standards are enforced across Africa in 2020, a source close to the matter said. Sogara's plans to build a second refinery in Port Gentil in conjunction with Samsung have also been scrapped, the source said.
-- Senegal's Dakar is currently running at its full capacity of 1.2 million mt/year and plans are still underway for the plant to increase its capacity to 1.5 million mt a year by 2019, according to company officials. In an interview published on the SAR website, the refinery's technical director, M Abdou Aziz Deme, said that the refinery had been struggling to operate at its capacity for several years but in 2017 it produced at record-high levels. The previous low rates of the plant were due to the financial issues that engulfed the refinery. In October last year, SAR carried out "renegeration" works at the refinery's catalytic reforming unit and it is now producing
gasoline
, another company source said.
LAUNCHES
-- Iraq opened a downstream tender on October 23 hoping to attract engineering and construction companies to build a new refinery in Basra province.
-- The Dangote refinery in Lagos, Nigeria, will receive its essential parts -- a crude distillation unit and residual fluid catalytic cracker -- in July, a senior official from Dangote Industries told S&P Global Platts. The source confirmed the foundations for the entire site had been fully "piled" and it was now waiting on the CDU and RFCC deliveries. The completion date was last heard to be 2020, but the source at Dangote could not confirm a completion deadline.
-- Algeria has scaled back plans to expand its downstream sector rapidly, dropping plans to build five new 5 million mt/year (100,000 b/d) refineries, and pushing ahead with only two new projects: 5 million mt/year at Hassi Messaoud and 5 million mt/year at Tiaret.
-- Honeywell said Kuwait Integrated Petroleum Industries Co. will use a range of its technologies for the refining and petrochemical complex at Al-Zour.
-- Angola's Sonangol hopes to have more details on which international partner it will tie up with for its new refining project in the first quarter.
-- Kuwait has committed itself to building a new 230,000 b/d refinery at Duqm with its Persian Gulf neighbor Oman, signing a final investment decision for the refinery project.
-- Saudi Aramco aims to start up its greenfield 400,000 b/d Jizan refinery in the second half of 2018 as the project is nearly completed.
-- Construction of the 140,000 b/d Karbala refinery, Iraq's first new downstream facility in decades, has stalled due to a lack of finance.
-- Iraq has signed a deal with two Chinese oil companies to build a new 300,000 b/d refinery and petrochemicals complex at Al-Fao in southern Iraq.
-- Nigeria has reached an agreement with neighbor Niger to build an oil refinery in a border town between Niger and Katsina State in northern Nigeria.
--Kenya is hoping to soon decide the location for a new refinery in either Lamu or Mombasa.
-- Ghana's Ministry of Energy is currently in the process of submitting a proposal to build a new refinery in Tema, a source close to the matter said. "We are yet to submit the proposal to the Cabinet for approval but Tema Oil Refinery has already started talking to some prospective partners," the source said. "Both the ministry and TOR are in agreement that the new refinery at Tema should be the way forward." This will replace the existing 45,000 b/d Tema Oil Refinery, which has been offline for the bulk of the last three years, and is currently operating at reduced capacity due to technical issues. The source added that the "plan is to put a new 100,000-160,000 b/d refinery in the available space of over 700 acres at the existing refinery yard" in Tema.
-- Angola's Sonangol has revived plans for its Lobito refinery project, saying it will build a 200,000 b/d plant at the coastal city by 2022.
-- Iraq is considering a 150,000 b/d greenfield refinery project at Nassiriya.
-- Iraq on February 8 signed a contract with Rania International to build a 70,000 b/d refinery in the restive Kirkuk province.
-- Iraq's oil ministry has announced a tender for a 100,000 b/d refinery in Qayarah, 60 km south of Mosul. It did not say whether it will be a completely new construction or a building out of the existing Qayarah refinery, which has a 20,000 b/d nameplate capacity but has been operating at 4,000 b/d due to damage inflicted in the battle against the self-proclaimed Islamic State group.
-- Houston-based GTC Technology has agreed a deal to provide a
gasoline
production unit to Iraq's Al-Barham Group, which plans to build a refining complex in the northern city of Kirkuk. The grassroots complex will process 12,000 b/d of straight run naphtha and untreated natural gasoline to produce high octane gasoline to Euro-V specifications, GTC said. It will contain a naphtha hydrotreater, naphtha splitter, C5/C6 isomerization unit, and heavy naphtha reformer.
-- Iraq has announced two new greenfield refinery contracts that would add 170,000 b/d to the more than 1 million b/d of refining capacity it already has said it intends to bring online with new construction as well as repairs and upgrades to existing refineries. The Oil Ministry is accepting proposals for a 100,000 b/d refinery in Kut, Wasit province, located east of Baghdad on the border with Iran. The second refinery will be built Diwaniya, in Qadisiya province, south of Baghdad, with a capacity of 70,000 b/d.
-- The Ugandan government signed an agreement with a consortium to build and operate a 60,000 b/d refinery in the west of the country, President Yoweri Museveni said. According to Museveni, who presided over the signing ceremony for the Albertine Graben Refinery, the consortium will carry out development, design, financing, construction, operation and maintenance of the refinery in Hoima District. The consortium is led by Nuovo Pignone International, a General Electric unit based in Italy. It also includes Italy's Saipem plus Mauritius' YAATRA Africa and Lionworks Group. The consortium was selected after over 40 companies showed interest in the project, the government said. The $4 billion facility is expected to process 30,000 b/d of crude initially, before its capacity doubles in the second phase of development. The project is expected to come on stream by 2020.
--Elza Turner,
elza.turner@spglobal.com
--Edited by Maurice Geller,
maurice.geller@spglobal.com