Two years after Mexico passed sweeping energy reforms, the new CEO of Petroleos Mexicanos is racing against time to bring in partners that can revitalize its money-losing refineries and rescue it from an 11-year slump in oil output.
"If Pemex hasn't found partners by next year, we are going to be in deep trouble," Chief Executive Officer Jose Antonio Gonzalez Anaya said in an interview Tuesday at Bloomberg's headquarters in New York.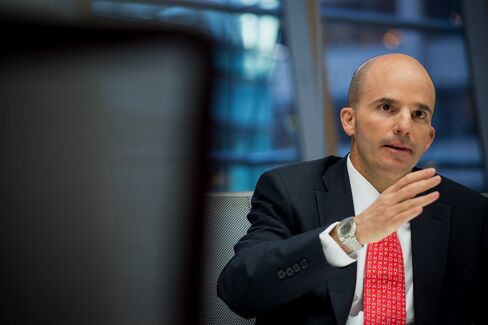 Gonzalez Anaya is promising investors and analysts that they'll hear by Thanksgiving how he plans to attract international oil companies to partner with Mexico's troubled oil giant. To provide short-term financing while the company waits for alliances to be formed, Pemex will return to the bond market to issue about $1.5 billion this year, he said.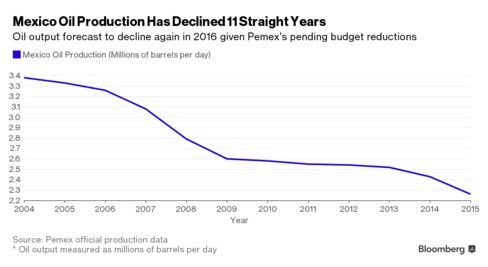 Pemex has been pummeled by the worst plunge in oil prices in a generation and a decline in production that has stretched for more than a decade. Gonzalez Anaya is aiming for 100 billion pesos ($5.77 billion) of cost cuts this year to stem the company's losses, which reached $32 billion last year and will continue in the first quarter. To do that, he is looking for partners in the "entire line" of Pemex's business, including about $2 billion in deals with private equity firms KKR & Co. LP and First Reserve Corp.
Bringing in partners may include giving up an operating interest in some of its refineries, which lose 100 billion pesos a year, according to Gonzalez Anaya. Pemex still plans to modernize its refineries to improve efficiency, though doing so will require financial and technical assistance from a partner, he said.
"There a lot things that, within the new rules, they don't necessarily have to be run by Pemex," Gonzalez Anaya said in an
interview on Bloomberg TV with Erik Schatzker.
He said that Pemex is open to have a majority operator in upstream and downstream areas "in the entire structure," and he's already in talks with some potential partners.
Pemex, which celebrated Mexico's opening of the country's long-standing government oil production monopoly in 2013, has yet to capitalize on the legislation that allows the company to create joint ventures to boost crude production in areas where it lacks the technical ability to do so, such as in deepwater fields. Its six refineries have deteriorated as the company has delayed maintenance and failed to invest enough money to modernize the plants. That has kept Mexico dependent on fuel imports, particularly from the U.S.
Capital Infusion
Pemex's first quarter earnings are likely to be "very bad" given the slump in Mexico's crude prices during the first three months of the year, Gonzalez Anaya said. Pemex finished 2015 with more than $87 billion in debt, according to the company's fourth quarter earning statement.
Mexico announced on April 13 that it would give Pemex a capital injection of 73.5 billion pesos to pay off outstanding debts to oil service providers and absorb some of the company's pension liabilities. The infusion comes as the spread between Pemex and Mexico's sovereign debt is the widest between all state-owned oil companies and the countries that control them, according to data compiled by Bloomberg.
The purpose of the trip for Gonzalez Anaya, who was accompanied in New York by Chief Financial Officer Juan Pablo Newman and Mexican Finance Minister Luis Videgaray, was to explain the February budget adjustments and the recent government aid package, he said.
Deficit Target
"The bottom line for us is that we have taken these two big steps, in terms of the budget adjustment and the government support, and they give us a solid financial foundation to do the structural things," he said. "But we need to do the structural things, otherwise it's not going to work."
Asked if he will be able to deliver on a financial deficit target for the year set at 100 billion pesos, Gonzalez Anaya said "Yes. I'm going to try really, really, really hard to do that."
The meetings held with banks and credit rating companies marked the first time in at least three decades that Mexico's Finance Minister and the Pemex director held a joint meeting with investors, Gonzalez Anaya said. The meeting was used to "send a clear signal that the government is behind us," he said.