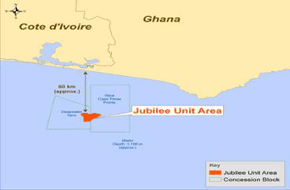 Tullow Oil and its partners on the Jubilee field offshore Ghana saw production from the field exceed expectations in 2015, averaging 102,600 bpd. A stable rate of gas was achieved following final commissioning of the onshore gas processing plant in March 2015, averaging around 90 Mmscf/d in Q4 2015. This strong gas export performance significantly reduced the requirement for gas reinjection at the field.
Tullow, in its Full Year Results statement, is forecasting Jubilee 2016 average production to be around 101,000 bpd gross. This reflects the impact of a planned two week FPSO maintenance shutdown scheduled for March and a period of reduced water injection capacity during H1which is currently being addressed.
The partners on the Jubilee continued their Jubilee Phase 1A drilling and completions with two oil producers coming onstream in September and December and a water injector which has yet to be completed being spud. With the Phase 1A investment program nearing completion, Tullow and partners submitted the Greater Jubilee Full Field Development (GJFFD) Plan in December and discussions are ongoing with the government regarding its progress.
The GJFFD, aimed at extending field production and increasing commercial reserves, has been redesigned given the current environment to reduce the overall capital requirement and allow flexibility in the timing of the capital investment. During 2016 and beyond, a continued focus on cost reduction opportunities and the careful balancing of future capital investment initiatives, including infill drilling as part of the GJFFD, will be key as Tullow seeks to ensure maximum return on investment from this world-class oil field.