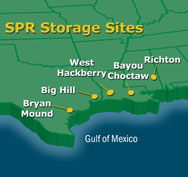 http://www.bradenton.com/2015/08/03/5924106/congress-looks-underground-for.html
WASHINGTON -- In its quest to spend more money without raising taxes, Congress has found a new piggy bank. It's buried deep underground, protected by armed guards, and filled with a valuable commodity worth billions of dollars. It's the U.S. Strategic Petroleum Reserve, the country's emergency stockpile of crude oil.
Created in 1975 after Arab oil producers cut off exports to the U.S., causing gasoline prices to soar, the reserve was designed to immunize the country against supply shocks. It stores about 695 million barrels of crude oil in salt caverns in Texas and Louisiana.
While it's supposed to help ensure national security, the reserve has begun to look to Congress like a source of cash. In the past month, lawmakers have proposed two bills that call for the sale of 180 million barrels of oil, to raise almost $15 billion.
On July 10, the House passed a health care bill that would speed drug development and boost funding for medical research, paid for in part by $5.4 billion in expected oil revenue. In the Senate, Majority Leader Mitch McConnell of Kentucky and Democrat Barbara Boxer of California have struck a rare bipartisan alliance with a bill that seeks to replenish the depleted U.S. Highway Trust Fund with $47 billion over six years. About $9 billion of that would come from selling 101 million barrels of reserve crude from 2018 to 2025.
Not every lawmaker thinks this is a good idea. On July 21, after the Senate highway bill was introduced, Alaska Republican Lisa Murkowski, who chairs the Senate Energy and National Resources Committee, tore into her colleagues in a speech on the Senate floor. "The Strategic Petroleum Reserve is not an ATM," she said. While Murkowski said she supports
finding a long-term fix for the Highway Trust Fund, she said doing so by selling crude from the SPR is "akin to selling the insurance on your house in order to pave your driveway."
This wouldn't be the first time Congress has used oil to plug a spending gap. The U.S. sold 28 million barrels from the reserve in 1996 and 1997 to cut the federal budget deficit. The Department of Energy has also periodically released oil to avoid supply disruptions, as it did after Hurricane Katrina and during the 2011 Libyan revolution.
The fracking boom has pushed U.S. oil production to 9.7 million barrels a day, almost double what it was a decade ago. Imports have fallen and now make up less than half of all the petroleum the U.S. consumes. While increased energy independence may insulate the U.S. from supply shocks, it's also partly responsible for the recent plunge in prices. As of late July, a barrel of West Texas Intermediate was trading for less than $50, down from $100 last summer.
This is hardly an ideal time for the government to sell oil, especially when the explicit purpose is to raise money. "It's a bad idea regardless of price," said Guy Caruso, a former administrator of the Energy Information Administration, which tracks and analyzes U.S. energy data.
According to the Congressional Budget Office, Congress expects to be able to sell oil for $75 a barrel in 2018, and for as much as $96 a barrel in 2025. While the EIA forecasts that oil prices will recover to about $70 by 2018, the futures market isn't as optimistic. WTI scheduled for delivery in 2020 was priced at $63 a barrel as of last Wednesday.
The initial version of the highway bill laid out a schedule for the Energy Department that detailed the number of barrels to be sold each year. On July 28, Sen. Ron Wyden, D-Ore., and Sen. Bill Cassidy, R-La., inserted an amendment to give the government flexibility to decide when to sell and for how much. It also extends the period in which the government can sell the oil from 8 to 10 years.