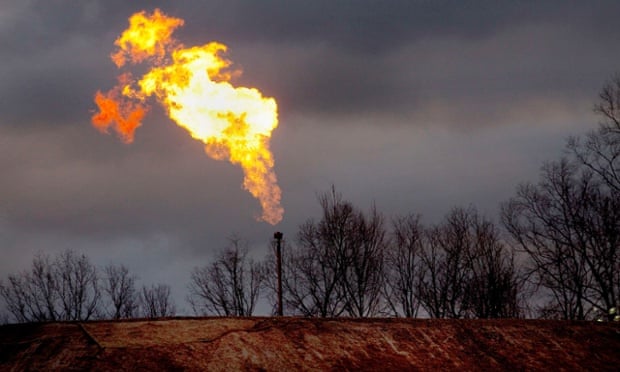 Gas flare at a fracking site. Photograph: Les Stone/Reuters
The interior department rules due to come into force on Wednesday would require companies to provide data on chemicals used in hydraulic fracturing, and to take steps to prevent leakage from oil and gas wells on federally owned land.
But on Tuesday Judge Scott Skavdahl granted a stay to the new rules until 22 July, according to the Independent Petroleum Association of America, which said the judge's decision on a preliminary injunction sought by IPAA and other opponents of the rules was now expected in mid-August.
IPAA and the Western
Energy
Alliance were joined by Colorado, Wyoming, North Dakota and Utah in seeking to stop the new rules from taking effect.
"We are pleased the court agreed that the new BLM regulations present serious and difficult questions that justified a stay of these rules' effective date," Colorado attorney general Cynthia Coffman said.
Fracking
involves injection of large amounts of water, sand and chemicals underground at high pressure to extract gas. Environmental groups and some living near wells have linked the practice to water pollution and increased earthquake activity.
Industry and states producing gas and oil have long opposed federal rules on fracking. Preferring to keep regulation in state hands, IPAA and the Western Energy Alliance filed a lawsuit in the US district court in Wyoming challenging the rules minutes after they were issued in March.
The groups said the rules were "arbitrary and unnecessary".
Wyoming and Colorado soon followed with their own lawsuit, arguing that the rules would infringe upon their sovereign authority to regulate hydraulic fracturing. North Dakota also intervened in the case against the regulations.
The groups and the states argue that allowing the rules to move forward before the resolution of the legal challenges would harm industry and waste state resources.
The interior department was not immediately available for comment on the judge's decision.
In its brief opposing the injunction, the department argued that companies would only be affected by the rules if they chose to engage in fracking on federal lands.