https://www.bloomberg.com/news/articles/2017-10-10/canadian-oil-s-high-priced-run-set-to-end-as-supply-surges
Oil stored in NW Europe falls to lowest since 2015: Genscape

Already-shrinking stockpile gets smaller after Harvey hit U.S.
If you want to see how the oil market's re-balancing, just take a look at Europe's storage tanks.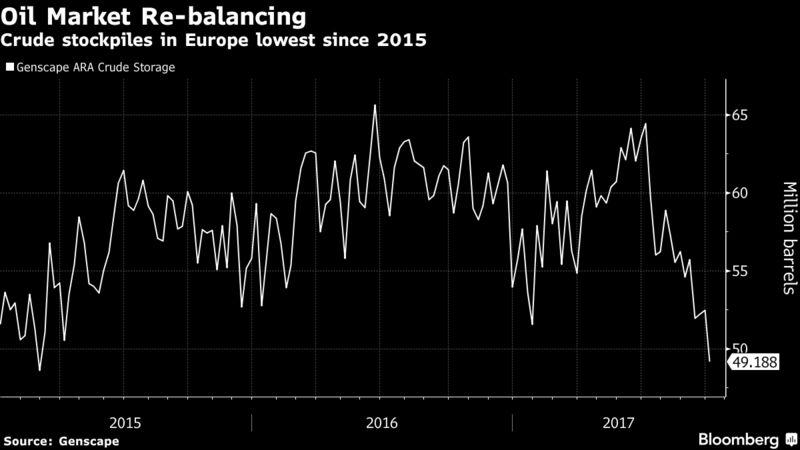 Crude inventories in the key hub of Amsterdam, Rotterdam and Antwerp -- known in the industry as ARA -- are now at their lowest level since February 2015. The sharp declines are being driving by a
diesel
market that roared over the summer, prompting European refineries to ramp up their crude processing, according to Carsten Fritsch, a commodities analyst at Commerzbank AG.
That accelerated last month as Europe's plants bolstered processing to fill a void left by U.S. outages after Hurricane Harvey. In short, Europe shipped more fuels to the U.S. and got less back, creating even more tightness in oil product markets and incentivizing refineries to chomp through as much crude as possible to capture soaring margins.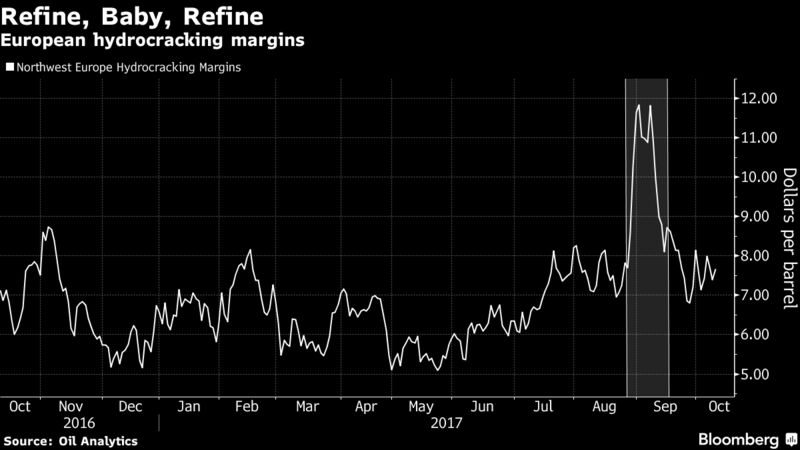 Add to that a market structure where it is no longer profitable for traders to keep oil locked up in tanks, and stored supplies have been quick to disappear.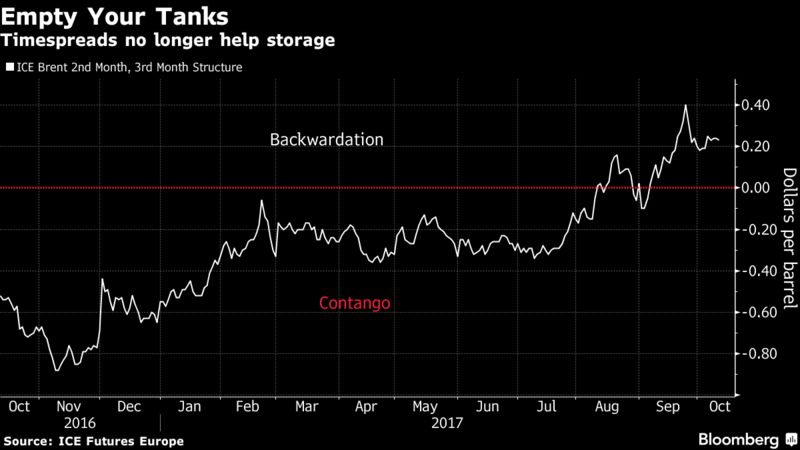 The move in Europe follows a similar emptying of one of the world's largest hubs, South Africa's
Saldanha Bay
, as parts of the Brent crude oil curve became the least profitable for stored supplies in three years.
That's all good news for the near-record number of speculative Brent crude oil bulls. This week's decline means that ARA stockpiles have fallen even further below their five-year average, which was one of the key benchmarks OPEC set itself to measure the success of its first output cuts in 8 years.