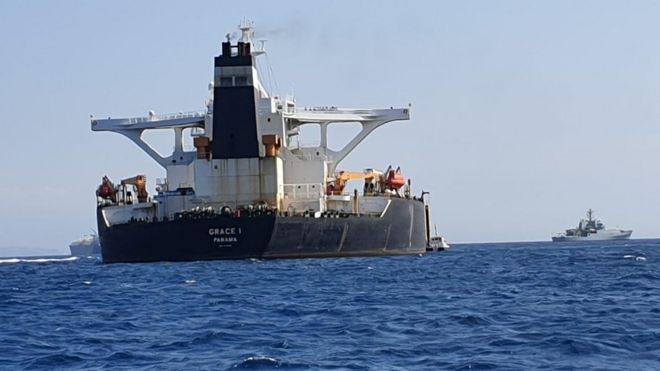 http://www.tankeroperator.com/ViewNews.aspx?NewsID=10931
Iran has demanded that the UK and in particular, the Gibraltar Government, hand back the seized 1997-built VLCC 'Grace 1'.
According to a Gibraltar Government statement, in the early hours of last Thursday morning, Gibraltar Port and Law Enforcement agencies, assisted by a detachment of UK Royal Marines, boarded the VLCC in the Gibraltar Anchorage, as it was alleged to be carrying crude oil to Syria.
"We have detained the vessel and its cargo," the Chief Minister, Fabian Picardo, said. "This action arose from information giving the Gibraltar Government reasonable grounds to believe that the 'Grace 1', was acting in breach of European Union sanctions against Syria.
"In fact, we have reason to believe that the VLCC was carrying its shipment of crude oil to the Banyas Refinery in Syria.
"That refinery is the property of an entity that is subject to European Union sanctions against Syria," he said.
As the sanctions being enforced are established by the EU, the Gibraltar Chief Minister wrote to the Presidents of the European Commission and Council, setting out the details of the sanctions, which Gibraltar has enforced.
In the meantime, Panama's Maritime Authority said that 'Grace 1' was no longer listed in Panama's international vessel registry as of 29th May.
The authority added that 'Grace 1' had been de-listed after it received an alert indicating that the ship had participated in or was linked to terrorism financing.
According to the Equasis database, the ISM and shipmanager is listed as IShips Management of Singapore.