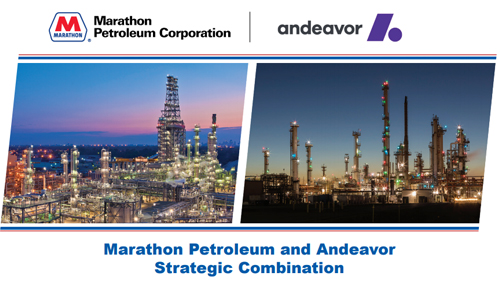 Marathon Petroleum Corp.
agreed to buy rival
Andeavor
for $23.3 billion in the biggest-ever deal for an oil refiner that would create the largest independent fuel maker in the U.S.
The offer, payable in either cash or shares, values Andeavor at about $152.27 a share, the companies said in a statement Monday. That represents a 24 percent premium over
Friday's closing price
.
Marathon
shares
sank as much as 8.9 percent in early trading with analysts at RBC Capital Markets seeing the deal done at "peak refining bullishness." Andeavor
rose
as much as 18 percent. Shares of Andeavor, Marathon and other independent refiners have soared to record highs this year.
Growing fuel demand, both in the U.S. and Latin America, and a shale boom that's expanded access to relatively inexpensive domestic supply have given American refiners a leg up against foreign competitors.
"Why wouldn't you do this deal?" Greg Goff, Andeavor's chief executive officer, said on a conference call Monday. "The time is right now, because for this industry, the wind is behind our backs."
Passing Valero
Marathon is focused in the Midwest and Gulf Coast, while Andeavor concentrates on the western U.S., including refineries and pipelines it acquired in last year's merger with Western Refining Inc. The combination, which will use the name Marathon, would overtake
Valero Energy Corp.
as the biggest in U.S.-based oil refiner by capacity, generating about 16 percent of the nation's total, according to Bloomberg calculations.
"Wow!" Matthew Blair, director of refining research at Tudor Pickering Holt & Co., wrote in a report. Blair called Andeavor a "big winner" in a deal that is "extremely positive." As for Marathon, meshing the two giant companies will be key, Blair said, adding that regulatory problems should be minimal, "given the disparate geographical markets of each company."
The companies said they expect annual cost and operating synergies of about $1 billion within the first three years. Given projected cash-flow generation, Marathon's board also approved share buybacks of $5 billion. Gary Heminger, Marathon's CEO, will be chief executive. Goff will become executive vice chairman.
The boards of both companies unanimously approved the deal, which is expected to close in the second half of this year, subject to regulatory and shareholder approvals.
Passing Phillips
Marathon's shares were down 6.8 percent to $75.88 as of 12:17 p.m. in New York, while Andeavor jumped 13 percent to $138.72.
Findlay, Ohio-based Marathon is the
third-largest
U.S. refiner by market capitalization, valued at about $38.6 billion, according to data compiled by Bloomberg. Last year the company sold 5.8 billion gallons of fuel through its Speedway convenience store chain. The combined company would pass
Phillips 66
, valued at $51.9 billion, as the largest U.S. independent refiner by market capitalization.
San Antonio, Texas-based Andeavor, formerly known as Tesoro Corp., is the fourth-largest, worth $18.7 billion. The company's assets also include
5,300 miles
of pipelines and 40 marine, rail and storage terminals.
Last week, Andeavor announced two joint ventures to move crude oil from West Texas to the Gulf Coast.
Permian Access
The first venture, a pipeline project majority owned by Phillips 66, would haul as many as 700,000 barrels per day of crude from the Permian Basin to the Corpus Christi, Sweeny and Freeport area. The second is a stake in a new marine terminal under development by Buckeye Partners LP that would connect with the pipeline.
Marathon's Galveston Bay refinery, which currently buys about 200,000 barrels a day of light domestic oil, could benefit from the pipeline connectivity, Heminger said in a conference call Monday.
Marathon's natural gas processing capacity will also increase by about 20 percent under the deal, to more than 10 billion cubic feet per day.
The combined entity expects to be well-positioned to capitalize from upcoming regulations to reduce pollution from ships. Andeavor's port assets in California, coupled with Marathon's in the U.S. Gulf Coast, will give the combined company the ability to sell lower-sulfur ship fuel.
"Ports are the lifeblood to refining out in those markets," Heminger said Monday.
— With assistance by Naureen S Malik, and Dan Murtaugh