Anadarko has removed nonessential staff from energy platforms

Would be first major hurricane to hit U.S. since Wilma
https://www.bloomberg.com/news/articles/2017-08-24/harvey-likely-to-be-first-hurricane-to-strike-texas-since-2008
Harvey, which has already shut energy platforms in the Gulf of Mexico, scattered tankers and disrupted pipeline operations, strengthened into a hurricane on a path that'll have it slamming into Texas's coast Friday.
Harvey's top winds reached 80 miles (129 kilometers) per hour as it bears down on the Texas coast about 340 miles southeast of Corpus Christi, Texas, according to an update from the National Hurricane Center. It is on track to become a Category 3 storm, the first major hurricane to hit the U.S. since Wilma in 2005.
"The primary impacts will be from widespread and potentially catastrophic flooding, with total rainfall amounts over the next week exceeding a foot in a large area from Corpus Christi to the Louisiana coast and then up to 100 miles inland from there," said Todd Crawford, chief meteorologist at The Weather Company in Andover, Massachusetts. "Many locations in those areas may exceed two feet. Clearly Houston is at risk for historic rainfall amounts over the next week."
Texas Governor Greg Abbott declared a state of disaster for 30 Texas counties. In addition to the potential loss of life, flooding can close roads and knock out power to homes, businesses and refineries. The five refineries in the Corpus Christi area can process about 868,000 barrels a day, or 4.2 percent of total U.S. capacity, according to Lipow Oil Associates. A further 11 refineries in Houston, Texas City and Baytown have a capacity of about 2.7 million barrels a day.
"Biggest impact of this storm will be a significant reduction of crude oil imports into the Texas Gulf Coast, resulting in refineries cutting crude rates," Andy Lipow, president of Lipow Oil Associates in Houston, said by email Wednesday. "There will also be a significant impact on petroleum product exports impacting supplies into Mexico."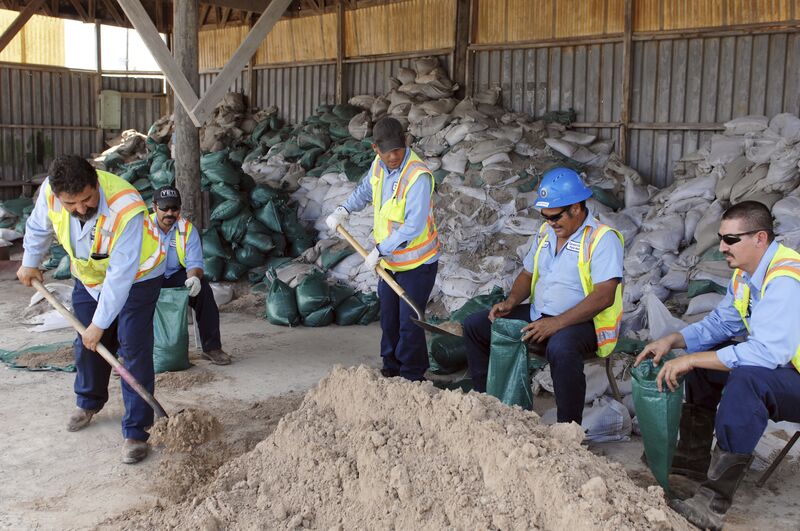 Corpus Christi ship pilots suspended incoming boardings, according to the port. All foreign ships, except for one, are leaving the port to steer clear of the storm, the U.S. Coast Guard said. Magellan Midstream suspended operations at its Corpus Christi marine terminal and condensate splitter early Thursday.
The storm will bring heavy rains. The U.S. Weather Prediction Center is calling for more than 20 inches (51 centimeters) of rain from Corpus Christi to Houston in the next seven days.
"It is rapidly intensifying mainly due to the fact the Gulf is so warm," said Shunondo Basu, a meteorologist and natural gas analyst at Bloomberg New Energy Finance. "It is definitely going to be an issue for the ship channels in the Gulf."
While oil supplies could be disrupted, natural gas demand could fall, said Matt Rogers, president of the Commodity Weather Group LLC in Bethesda, Maryland. When hurricane Ike hit Texas in 2008, power outages cut electricity demand, reducing the need for gas and depressing prices.
Ike, a Category 2 storm when it struck near the mouth of the Houston Ship Channel, killed 103 people across the Caribbean and the U.S., including at least 21 in Texas, Louisiana and Arkansas. It caused about $29.5 billion in damage, according to a 2009 National Hurricane Center report.
Anadarko Petroleum Corp.
shut in production and evacuated its Boomvang, Gunnison, Lucius and Nansen oil and gas production platforms in Gulf of Mexico ahead of Harvey, according to statement on the company website Wednesday. Noble Corp Plc. evacuated its Noble Paul Romano rig, Jeff Chastain, a company spokesman, said Thursday by email.
Kinder Morgan Inc.'s Tennessee gas pipeline declared force majeure for stations in south Texas on Friday and also plans to evacuate some staff.
Storm Surge
Exxon Mobil Corp.
had said it's cutting output at its Hoover production platform in the Gulf of Mexico ahead of the storm. The company's also working on plans to evacuate staff in stages from offshore facilities, Suann Guthrie, a spokeswoman, said by email Wednesday.
Royal Dutch Shell Plc
shut production at its Perdido platform and evacuated the facility.
Along the coastline, seas could rise 5 to 7 feet (1.5 to 2.1 meters) above ground level.
American Airlines Group Inc. is allowing people traveling through Houston and nine other cities on certain dates to re-book their flights without a fee because of the storm. United Continental Holdings Inc. is offering the same in eight cities, while Delta Air Lines Inc. is offering a similar waiver for Houston flights.
Policyholder-owned State Farm Mutual Automobile Insurance Co. has the largest share in the market for home coverage in Texas, followed by Allstate Corp., Farmers Insurance and United Services Automobile Association, according to data compiled by A.M. Best Co.
— With assistance by Amy Stillman, Sheela Tobben, Marvin G Perez, Naureen S Malik, Barbara J Powell, Mary Schlangenstein, Sonali Basak, Ryan Collins, Laura Blewitt, Jim Polson, Sebastian Tong, Alex Tribou, Alex Longley, Melissa Cheok, and David Wethe