The data indicate Opec continues to produce far more than its former production target of 30m b/d, which it abandoned last week after a
meeting of ministers
in Vienna.
A disagreement over which members should bear the brunt of production cuts to bolster prices — close to
seven-year lows
at below $40 a barrel — led Opec to do away with even the pretence of maintaining an output ceiling.
Saudi Arabia
, the group's de facto leader and largest producer, has said it will not cut its own output without contributions from others. The kingdom continued to pump around 10.1m b/d last month.
According to data given directly to Opec by the kingdom, this figure is slightly higher. The kingdom's output hit a record 10.6m b/d earlier this year and has far surpassed the 2014 average of 9.7m b/d for much of 2015.
The cartel's November increase was led by output from Iraq, which has hit record levels in recent months.
Iraqi production rose to 4.3m b/d in November from 4.1m b/d the month before as it pumps hard to raise funds to fight Isis and provide some support to its fragile economy.
Saudi Arabia's Opec rivals
, including
Iran
and Venezuela, have called on the kingdom to pull back on its production, which they believe is contributing to the oil price weakness.
A slowdown in production growth outside of the cartel — that is expected to sharpen next year — has prompted Opec to raise the demand forecast for the group's crude for 2016 to 30.8m b/d. This is an increase of 1.5m b/d over the estimated level for 2015.
Non-Opec supply growth for 2015 was revised lower by 310,000 b/d since the initial forecast and stands at 1m b/d. A downward revision of 200,000 b/d was made for 2016.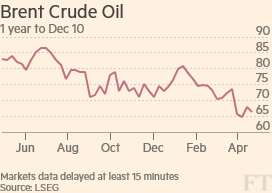 "This has been mainly due to the impact of low oil prices and declining investments in the oil industry," the group said.
Despite slower growth, total non-Opec supply was higher in the third quarter than initially forecast. This takes the 2015 estimate to 57.5m b/d, an upward revision of 300,000 b/d. Production outside of the group is expected to stand slightly lower at 57.1m b/d in 2016.
"Growth is seen coming mainly from Canada and Brazil, with declines also expected in the US, Mexico, Russia, Kazakhstan, the UK and Azerbaijan," Opec said.
Total world demand of 93.6m b/d in the third quarter was higher than initially estimated, but the 92.9m b/d estimate for 2015 remains unchanged, as does the 2016 figure of 94.1m b/d.