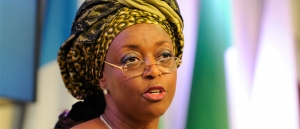 The immediate past Minister of Petroleum Resources, Diezani Alison-Madueke, has been arrested in London.
Mrs Alison-Madueke was arrested along with four other persons in relation to corruption allegations being investigated by the UK National Crime Agency.
Mrs Diezani Alison-Madueke has been in London for some time, reportedly on health grounds.
Under her watch the then CBN Governor, Sanusi Lamido Sanusi, alleged missing funds in the Nigerian National Petroleum Commission (NNPC), amounting to 20 billion dollars.
Few days ago at the UN General Assembly, President Muhammadu Buhari had made it clear that those who misappropriated billions of naira belonging to the Nigerian National Petroleum Corporation would soon be prosecuted.
It is not yet known if Mrs Allison-Madueke's arrest was based on a request from the Nigerian Government.
It was alleged earlier in the year that the former Petroleum Minister, who was one of the closest to the administration of former President Jonathan, would flee the country, to avoid being prosecuted over allegations of fraud, especially in the NNPC.
This was following the defeat of the former President at the Presidential election in April.
She, at the time, denied seeking asylum in any part of the world, stating that the Jonathan administration had done a lot in the Oil and Gas industry that cannot be rubbished by malicious claims.