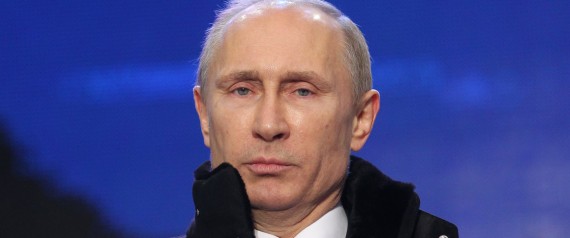 MOSCOW, RUSSIA - MARCH 18: Russian President Vladimir Putin attends a rally with Crimean Prime Minister Sergei Aksyonov (not pictured) at Red Square on March 18, 2014 in Moscow, Russia. President Putin has signed a treaty to officially include Crimea as part of the Russian Federation after the region voted resoundingly to be part of Russia in a poll 48 hours ago. The Russian parliament is expected to ratify the treaty later this week. (Photo by Sasha Mordovets/Getty Images) | Sasha Mordovets via Getty Images
MOSCOW (AP) — Russia may revise its stance in the Iranian nuclear talks amid tensions with the West over Ukraine, a senior diplomat warned Wednesday.
Russia's Deputy Foreign Minister Sergei Ryabkov said, according to the Interfax news agency, that Russia didn't want to use the Iranian nuclear talks to "raise the stakes," but may have to do so in response to the actions by the United States and the European Union.
The statement is the most serious threat of retaliation by Moscow after the U.S. and the EU announced sanctions against Russia over its annexation of Ukraine's Crimea region.
Ryabkov, who is Russia's envoy to the Iranian talks, said that Russia considers the "reunification" with Crimea as far more important than the developments surrounding the Iranian nuclear program.
Russia has cooperated with the United States and other Western nations in the Iranian talks, but Ryabkov warned that its attitude may now change.
"We wouldn't like to use these talks as an element of the game of raising the stakes taking into account the sentiments in some European capitals, Brussels and Washington," Ryabkov was quoted as saying by Interfax. "But if they force us into that, we will take retaliatory measures here as well. The historic importance of what happened in the last weeks and days regarding the restoration of historical justice and reunification of Crimea with Russia is incomparable to what we are dealing with in the Iranian issue."
Ryabkov didn't elaborate on how Russia's position in the talks may change.
Iran has agreed to curb its nuclear activities under the terms of a deal last November with six world powers, including Russia.
Tehran insists that its nuclear program has peaceful goals and dismisses Western fears that it could be a cover for a bid to develop nuclear weapons. It has agreed to temporarily limit its atomic work in return for some sanctions relief. In the meantime, both sides are working on a fuller deal placing long-term restrictions on Iran's nuclear program in exchange for an end to all economic sanctions.