Nigerian stream back after 15-month halt caused by sabotage

Extra barrels equate to about a fifth of OPEC supply curbs
Royal Dutch Shell Plc lifted restrictions on exports of a key Nigerian crude oil, 472 days after imposing them following militant attacks. The extra flows alone amount to about 20 percent of the supply OPEC has pledged to cut from world markets.
Europe's biggest oil company ended a force majeure of Forcados crude oil shipments at 4 p.m. London time on Tuesday, a spokesman said. The measure, which allows companies to miss contractual obligations, was imposed on Feb. 21 last year. Shipments this month will average about 250,000 barrels a day, according to a loading program obtained by Bloomberg.
Nigeria is adding barrels to the market just as other members of the Organization of Petroleum Exporting Countries are trying to remove them in a bid to bolster prices. The producer club said on May 25 that it will keep its collective output restricted by 1.2 million barrels a day until the end of the first quarter next year. As well as Nigeria, flows from Libya are also jumping. Both countries were exempted from the curbs because of domestic conflicts.
"The market is already drowning" in similar types of crude to the Forcados grade, said Ehsan Ul-Haq, an oil analyst at KBC Advanced Technologies. The return of the grade will only add to that, he said.
Nigeria's Main Oil Terminals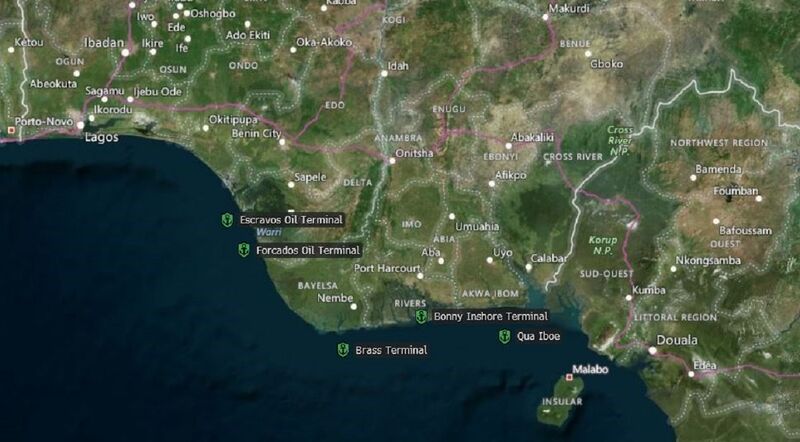 The return of Forcados will add more than 10 percent to the country's output, lifting it toward the 2 million barrels a day mark.
Shell's Nigerian unit
declared
the force majeure after the Niger Delta Avengers, a militant group, attacked the subsea export line. The NDA claimed
another attack
on the pipeline in June, and then
again
in early November, part of a spate of sabotage that
pushed
the country's production to the lowest in almost three decades last year and cost it
billions of dollars
.
While the NDA
threatened
to widen its campaign this January, the "hard knocks" promised by the group didn't materialize, as the government increasingly
put an emphasis
on finding a negotiated settlement and resumed suspended payments to ex-militants under an amnesty program.
"There is a fragile peace in the Niger Delta that is currently holding and looks as though it is going to last for the foreseeable future," said Manji Cheto, senior vice president at Teneo Intelligence, adding that Nigeria has previously said it will look to increase production to about 2 million barrels a day before making voluntary output curbs.
The loss of Forcados barrels had the single biggest impact on Nigerian oil production out of any grade the country producers. The grade pumped an average of about 200,000 barrels a day in 2015, before the militancy escalated. Its scheduled cargoes for June are the second highest of any Nigerian grade, the loading data show.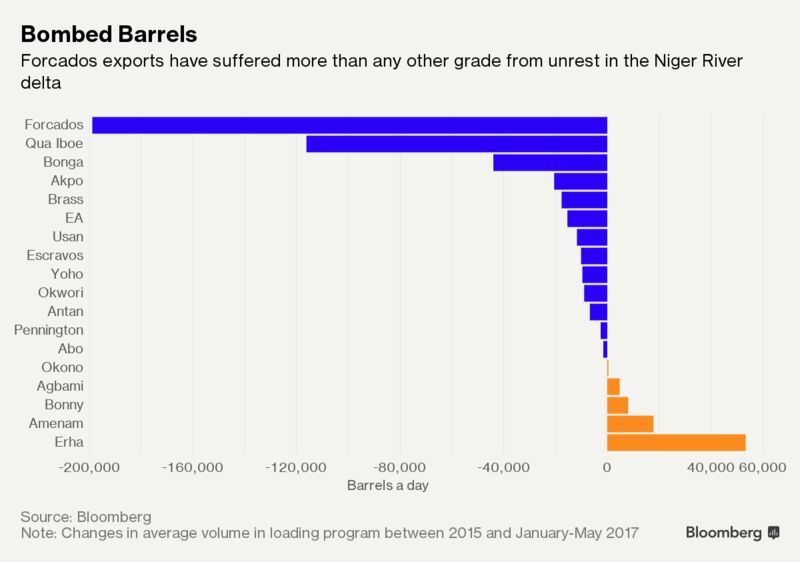 While the return of Forcados may be good news for Nigeria, it represents a new headache for OPEC. Production from the group's members rose in May to 32.21 million barrels a day, up 315,000 barrels a day from the previous month, according to a Bloomberg News survey of analysts, oil companies and ship-tracking data. Libya and Nigeria contributed the majority of those gains while the 11 bound by the output caps were fully compliant with their pledges last month, just as they were in April, the survey showed.
Counting Nigeria and Libya, total OPEC oil output remained about 450,000 barrels a day above the target set out in the Nov. 30 production agreement and further extended in last month's meeting, putting the group only about 66 percent of the way toward its goal, compared with 90 percent in April, according to data compiled by Bloomberg.
Since OPEC and 11 other non-members, that collectively pump about 60 percent of the world's oil, agreed to continue curbing output, prices have actually fallen. Brent crude has dropped from $53.96 a barrel on May 24, the day before the extension was announced in Vienna, to trade at $49.95 a barrel as of 10:40 a.m. London time.