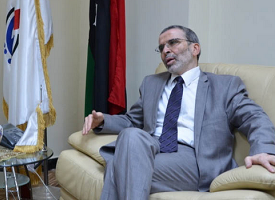 NOC chairman, Mustafa Sanalla
NOC chairman, Mustafa Sanalla, met with the Chinese Ambassador to Libya, Li Zhiguo, and a number of senior officials of UNIPEC, a unit of China's state-run firm Sinopec Group.
During the meeting the progress of current contracts between NOC and the company were discussed. The parties also discussed Chinese firms returning to Libya's oil sector to resume activities.
At the end of the meeting, the Ambassador of China invited Sanalla to officially visit the People's Republic of China to meet with the senior officials in the Chinese oil sector in order to develop the Libyan-Chinese oil relationships.