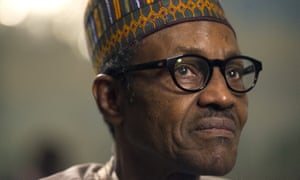 Nigerian president, Muhammadu Buhari, while being interviewed in Washington in June 2014. Photograph: AP
Nigerian authorities have seen documents suggesting that the proceeds from past crude oil sales were diverted to personal accounts instead of reaching government coffers, the president, Muhammadu Buhari, said on Wednesday.
Africa's biggest economy faces its worst economic crisis in years, since it relies on oil exports for about 58% of government revenue. The sharp fall in oil prices over the past year has hit those revenues hard. The problem has been exacerbated by the longstanding mismanagement of oil revenue.
Buhari has previously said treasury coffers were virtually empty when he took office in May and that "mind-boggling" sums of money had been stolen.
The 73-year-old former military ruler, who won April elections after campaigning on an anti-corruption ticket, outlined progress made by his government in a two-hour "media chat" with three journalists broadcast live on state television.
"We have some documents where Nigerian crude oil was lifted illegally and the proceeds were put into some personal accounts instead of the federal government accounts," he said.
He added that some stolen money had already been recovered by the government, but did not disclose the sums involved and said he could not provide more details because various cases were being taken to court.
The president answered questions on a wide range of topics, from security to the economy, and from unemployment to the kidnapping by Boko Haram of 200 school girls from the town of Chibok in April 2014.
Buhari said the government was prepared to hold talks with the Islamist militant group in a bid to secure the girls' release. "If a credible leadership of Boko Haram can be established and they tell us where those girls are, we are prepared to negotiate with them without any preconditions," he said.
However, he said there was no firm intelligence on the whereabouts of the girls, whose abduction in April 2014 prompted an international outcry, or whether they are still alive.
Boko Haram have been waging a six-year campaign to create an state of Islam in northern
Nigeria
. More than 1,000 people have been killed in attacks by suspected Boko Haram militants since Buhari took office. In the latest flare-up, two suicide attacks killed at least 48 people on Monday.
The president also reiterated his belief that Nigeria's currency should not be devalued further, despite the central bank's growing struggles to keep the naira at current levels. Instead he backed measures imposed by the central bank to restrict access to foreign exchange, which have not gone down well with investors.
"The foreign currency restrictions cannot be lifted because the money is not there," the president said.