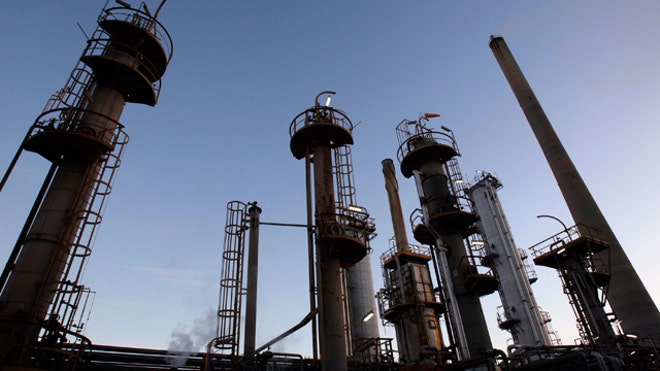 Brent crude futures dipped below $58 a barrel on Tuesday as the dollar hit multi-year highs and the oil market remained hobbled by oversupply and weak demand.
The U.S. dollar hit a near 12-year peak against the euro and an eight-year high against the yen, hurting commodities priced in dollars by making them more expensive for holders of other currencies.
At 7.31 a.m. EDT, Brent was down 79 cents at $57.74, while U.S. crude was 45 cents lower at $49.55.
Traders and analysts said there was a risk of further falls as speculative net long positions were so high, particularly in Brent, whilst the fundamental picture remained one of weakness with no sign of any slowdown in production.
"In order to balance the market we need the supply glut to be brought down, by rising demand or lower supply," Ole Hansen, senior commodity strategist at Saxo Bank, said.
Demand from China, the world's second-largest oil consumer, slowed in February as the Lunar New Year holiday cut into shipping volumes.
At the same time, global refinery maintenance is about to peak, with global offline capacity assessed at 5.7 million barrels per day (bpd) in April, according to Energy Aspects.
"Most of the supportive factors for Brent are starting to fade," they said in a note on Tuesday, pointing out that supplies hit by weather and technical issues were returning.
Libya is expected to export more than two million barrels of crude oil this week from two ports in the east, where output has topped 245,000 bpd.
"This could add to the bearish picture in Brent," Carsten Fritsch, an oil analyst at Commerzbank, said. He said Brent had tried and failed to regain the $60 a barrel level on Monday, which triggered selling from short-term investors.
"Brent could see further declines now, given the large overhang of speculative long positions," he said.
U.S. crude has faired a little better helped by a report from market data firm Genscape that showed a modest stock build last week at the Cushing, Oklahoma, delivery point.
Investors are waiting for weekly U.S. inventory reports from industry group the American Petroleum Institute and the U.S. Department of Energy's Energy Information Administration to see if the Genscape numbers are confirmed.
According to a Reuters survey, U.S. crude stocks are set to extend their record build for a ninth week.
(Additional reporting by Keith Wallis in Singapore; editing by Jason Neely)