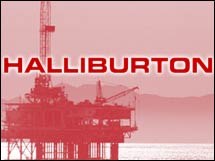 http://www.bloomberg.com/news/articles/2015-02-10/halliburton-cutting-jobs-on-challenging-market-environment-
(Bloomberg) -- Halliburton Co. is cutting as much as 8 percent of its global workforce of more than 80,000 as it confronts the collapse of oil prices and brings job reductions more in line with its largest competitors.
The world's second-largest oilfield services company, which announced general plans to boost dismissals last month, expects to reduce its workforce by 6.5 percent to 8 percent, according to an e-mailed statement Tuesday. The reductions include the company's previous announcement in December of 1,000 cuts in the Eastern Hemisphere, Emily Mir, a spokeswoman said in the statement.
"We are faced with the difficult reality that reductions are necessary to work through this challenging market environment," Mir said. "The impact will be across all areas of Halliburton's operations."
The oilfield services industry, which helps explorers find and produce oil and natural gas, has been the first to feel the effects of the price collapse. Oil companies have slashed spending in the past quarter after crude plunged more than 50 percent since June as U.S. production surged and the Organization of Petroleum Exporting Countries resisted output cuts.
"As activity in North America begins to fall more sharply, we will make similar adjustments here as well," President Jeff Miller told analysts and investors Jan. 20 on an earnings conference call. "Between actions already taken in the fourth quarter and actions we anticipate taking by the end of the first quarter, we expect our head count adjustments to be in line with our primary competitors."
Schlumberger Ltd. has announced cuts of 9,000 jobs and Baker Hughes Inc. has reduced 7,000 positions. Weatherford International Plc has announced 8,000 dismissals.
To contact the editors responsible for this story: Susan Warren at
susanwarren@bloomberg.net
Carlos Caminada, Jim Efstathiou Jr.