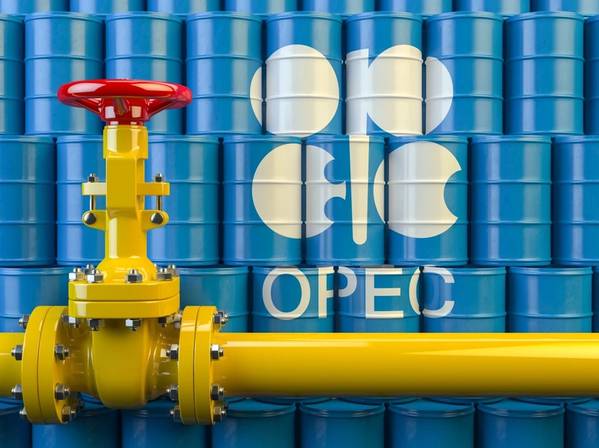 Image by Maksym Yemelyanov - AdobeStock
https://www.spglobal.com/platts/en/market-insights/latest-news/oil/060821-opec-lifts-may-output-by-430000-bd-as-saudi-arabia-eases-its-voluntary-cut-platts-survey
Highlights
OPEC hits 13-month high, non-OPEC allies flat on month
Saudi pumps 8.50 mil b/d; Russia at 9.51 mil b/d
OPEC+ quota compliance stays stable at 111%
Crude oil production from OPEC and its allies jumped 430,000 b/d in May, the latest S&P Global Platts survey found, led by Saudi Arabia, which accounted for about 84% of the total monthly rise.
The OPEC+ alliance, which held almost 7 million b/d of production offline in April to speed the market's rebalancing, began significantly relaxing its output quotas last month, in anticipation of rising summer oil demand and a healthier global economy.
OPEC's 13 members pumped 25.71 million b/d in May, its highest since April 2020, when Saudi Arabia launched a brief price war after a breakdown in talks with Russia over how to manage the oil market through the pandemic.
Its nine non-OPEC partners, led by Russia, produced 13.21 million b/d, unchanged from the previous month.
Despite the production gains, the looser quotas meant OPEC+ compliance stayed mostly steady at 111.45% compared to 111.16% in April, the survey found.
Saudi Arabia saw the biggest rise month on month, adding 360,000 b/d, which included unwinding a quarter of its extra voluntary 1 million b/d production cut, as it had previously signaled, along with a higher quota.
The kingdom produced 8.50 million b/d in May, some 730,000 b/d below its official quota of 9.23 million b/d.
Take away the Saudi voluntary cut, and OPEC+ quota compliance would fall to 99.51%, according to Platts calculations.
Saudi crude exports were up sharply in the month, in response to strong demand from its key customers, while its crude inventories and refining runs also observed a sturdy rise, according to the survey.
Saudi Arabia has promised to further ratchet back its extra cut by 350,000 b/d in June, and 400,000 b/d in July, as it prepares to unleash more barrels on a market that is starting to show some robust economic signs.
Iraq, Russia compliance improves
Meanwhile, the OPEC+ group's largest producer, Russia, tightened its compliance to 94% in May, the survey found.
Russia, which has overproduced its cap since March, had significantly ramped up output in April, and in May, production was only up 10,000 b/d, averaging 9.51 million b/d.
This is Russia's highest production since the price war of April 2020, and still well above its quota of 9.42 million b/d.
Iraqi compliance, also historically lackluster, improved slightly to 88.6% in May, as it pumped 3.99 million b/d, an increase of 20,000 b/d from the previous month.
Despite a fall in exports, its crude inventories grew, while direct crude burn was also up on the month, due to summer demand, according to the survey. The May figure is almost 90,000 b/d above its OPEC+ production quota of 3.91 million b/d.
Gulf states the UAE and Kuwait also added more barrels, in line with their May allocations, producing 2.64 million b/d and 2.36 million b/d, respectively, the survey found.
Iranian output steady
Much of the alliance's – and the market's – focus in recent weeks has been on Iran, which is in deep negotiations with US and European diplomats to revive the nuclear deal and cast off sanctions that have crimped its oil production.
Iranian crude production has been on the rise in recent months in anticipation of a deal, but was unchanged from April at 2.43 million b/d in May, according to the survey, as talks appear to have bogged down.
OPEC+ ministers, who have said they will seek to accommodate Iran's return to the market in the event of a nuclear accord, have left production quotas for August and beyond unsettled, with plans to convene July 1 to discuss the matter. Iran is exempt from quotas under the OPEC+ agreement.
Libya, another exempt member, produced 1.15 million b/d in May, a rise of 30,000 b/d despite a slight fall in exports, the survey found.
Many of the country's key fields are poised to pump more this summer as demand from Europe -- its major customer -- accelerates, boosted by higher mobility and rising vaccinations.
Venezuela, the third exempt country, rebounded slightly to 540,000 b/d as survey panelists noted that crude output in the Orinoco Belt rose steadily.
Exports to China, which have seen a sharp rise recently, could however fall in the coming months, due to a new Chinese consumption tax on imports of bitumen blend.
The Platts figures, which measure well-head production, are compiled by surveying oil industry officials, traders and analysts, as well as reviewing proprietary shipping, satellite and inventory data.