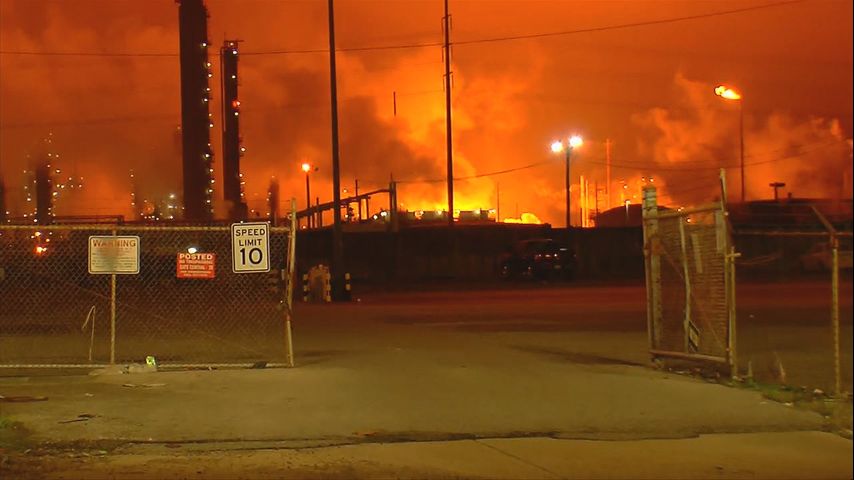 BATON ROUGE - A large fireball erupted within the Exxon refinery in north Baton Rouge late Tuesday night, and as of 6:45 a.m. Wednesday the blaze was completely extinguished.
https://finance.yahoo.com/news/fire-massive-exxon-refinery-poses-171207688.html
(Bloomberg) -- A fire broke out early Wednesday at Exxon Mobil Corp.'s Baton Rouge oil refinery in Louisiana, halting production at the fifth-biggest fuel-making plant in the U.S.
The outage at the massive complex -- which supplies fuels across the southeast U.S. and all the way to New York Harbor -- means the refinery needs fewer barrels of crude oil, depressing a market already reeling from the coronavirus crisis in China. But it could help ease a gasoline glut in the Gulf Coast, where stockpiles hit a record in late January.
The Baton Rouge fire is the third blaze in the Gulf Coast region for Exxon in less than a year, and comes after the company posted the worst quarterly profit in almost four years. Earnings at its refining and chemical business slumped by a combined $6.5 billion in 2019, and the oil giant is pursuing asset sales and even cracking down on employee travel to tide over the turmoil.
Heavy Canadian oil fell from a four-month high after the Baton Rouge refinery shutdown, while Gulf Coast and New York gasoline strengthened. Consumers could feel the impact of higher prices as soon as Thursday morning.
The latest blaze erupted in a natural gas line, affecting first one and then all of the facility's crude distillation towers -- which heat and break down raw oil into products -- according to people familiar with operations. As a result, other units such as the catalytic cracker and the chemical plant had to cease operations.
The fire has been extinguished and there were no injuries, according to Exxon. Operations continue at the refinery and chemical plant, spokesman Jeremy Eikenberry said. The facility is located along the Mississippi River about 80 miles (129 kilometers) northwest of New Orleans, can process more than 500,000 barrels of crude a day and accounts for about 15% of Louisiana's refining capacity.
The local WAFB TV station's website showed images of the fire, and said local people reported their houses being shaken by the incident. There was no initial off-site impact to air quality, or an immediate call for an evacuation of the nearby area, WAFB said.
The complex's chemical plant has shut, including its olefins unit -- which takes feedstocks such as naphtha, butane, propane and ethane from the oil refinery and converts them into ethylene and propylene that are used to make plastics.
Western Canadian Select crude's discount to U.S. West Texas Intermediate widened to $16.75 a barrel on Wednesday. The Baton Rouge refinery uses heavy crude produced in the Kearl oil sands mine operated by Imperial Oil Ltd., which is majority owned by Exxon.
Gasoline in the Gulf Coast spot market rose 1.25 cent per gallon to an 8-cent discount to Nymex Rbob futures Wednesday afternoon. Futures of the motor fuel jumped the most in almost five months.
Exxon is in the process of a massive expansion of the plastic-ingredient capacity on the chemical side of the Baton Rouge complex that's scheduled to begin output next year. The combined refining and chemical operations account for one in every 10 jobs in southwest Louisiana region, according to the company.
U.S. refineries handled an average of about 16.5 million barrels a day of crude so far this year, Energy Information Administration data show.
(Updates with background in third paragraph and market reaction in fourth.)
--With assistance from Joe Carroll, Bill Lehane and Robert Tuttle.
To contact the reporters on this story: Barbara Powell in Houston at bpowell4@bloomberg.net;Jeffrey Bair in Houston at jbair4@bloomberg.net;Rachel Graham in London at rgraham13@bloomberg.net
To contact the editors responsible for this story: David Marino at dmarino4@bloomberg.net, Pratish Narayanan, Joe Carroll
Subscribe now
to stay ahead with the most trusted business news source.
©2020 Bloomberg L.P.