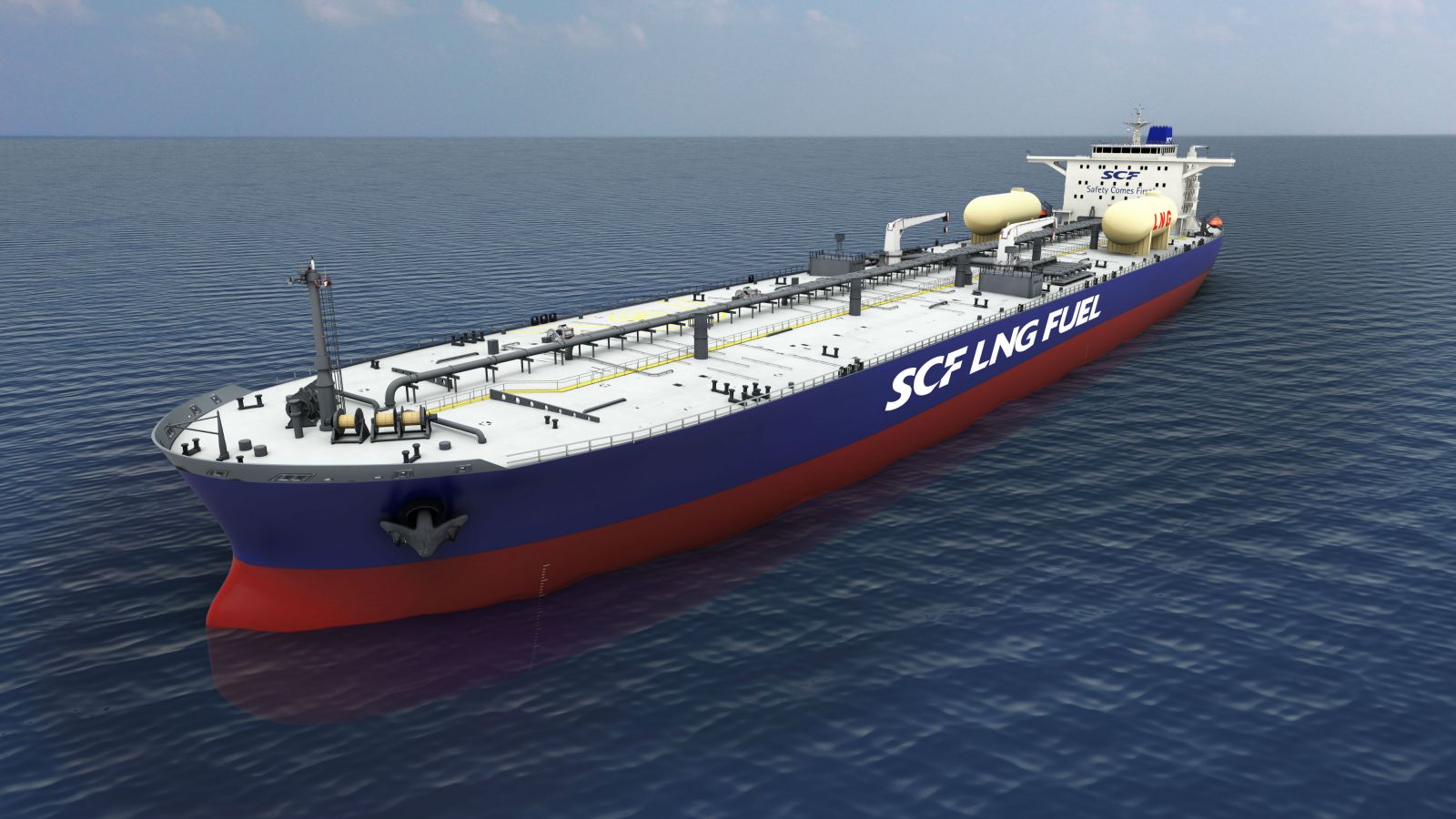 SCF Group (Sovcomflot) has signed an agreement with Shell Western LNG to supply LNG to fuel what are claimed to be the first Aframax crude oil tankers in the world to be powered by natural gas.
The agreement was announced by Sergey Frank, Sovcomflot president and CEO, and Maarten Wetselaar Shell's integrated gas and new energies Director.

The agreement calls for Shell to provide the LNG fuel for the new generation of SCF Group's 114,000 dwt ice classed Aframaxes that are due to enter service at the beginning of the third quarter of 2018.
They will be the first LNG-fuelled Aframaxes built and will operate primarily between the Baltic and Northern Europe transporting crude oil and petroleum products. Shell will fuel the vessels from a specialised LNG bunker vessel at the Gas Access to Europe (GATE) terminal in Rotterdam and other supply points in the Baltic. Each LNG-fuelled tanker will have an Ice Class 1A hull notation enabling year-round export operations from the Russian Baltic.

"SCF Group and Shell have an extensive and successful track record of collaboration and technical innovation, and at the heart of our joint aspirations is the shared desire to play a major role in delivering a cleaner and safer maritime environment. This is why SCF Group and Shell decided to pilot this breakthrough initiative to switch the principal fuel of Aframax tankers, the workhorse of the global tanker industry, to LNG," said Frank.

"This is an important next step for gas as part of the energy mix. The decision to work with SCF Group to power the world's first LNG-fuelled Aframax crude oil tankers is evidence of Shell's commitment to LNG as a transport fuel. LNG will increasingly play a larger role in helping the shipping industry meet new emissions regulations," added Wetselaar.

The signing of this agreement marks the fulfilment of a MOU signed between Shell and SCF in September, 2015 to develop marine LNG fuelling for large-capacity tankers.

SCF said that it had opted for these innovative technical solutions to ensure that the new generation of Aframaxes exceeds rather than simply complies with emission legislation and sets the standard for shipping in the environmentally sensitive regions in which the fleet operates.

The concept for these tankers was developed jointly by technical specialists from SCF and the shipbuilder, including the Far Eastern Shipbuilding and Ship Repair Centre and Hyundai Heavy Industries, the technology partners of Zvezda shipbuilding complex (Primorsky region of the Russian Far East). This concept was developed as part of the preparation for the construction of of this type of vessel at Zvezda, where it is envisaged that the construction of large-capacity tankers will commence by 2021..

SCF is working towards reducing the environmental impact of its fleet. For example, in 2011-2016, these efforts made it possible to noticeably reduce SOx emissions by 24% per tonne/mile, NOx by 10% per tonne/mile and CO2 by 4% per tonne/mile.