Saudi Arabia, the world's biggest oil exporter, won't boost output to capacity and flood the market, the kingdom's Energy Minister Khalid Al-Falih said as OPEC members plan to meet next month to discuss ways to stabilize crude prices.
Saudi Arabia isn't concerned about global demand in spite of a drop in prices and a slower economy, Al-Falih said in an interview with Al-Arabiya television. The country is able to pump as much as 12.5 million barrels a day of oil, he said in comments broadcast during an official visit to buyers in Asia, its biggest market, including China.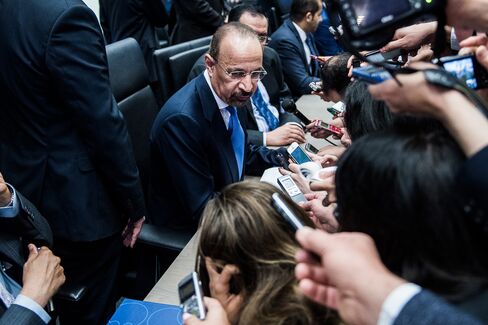 "The market is now saturated with stored crude at beyond usual levels and we don't see in the near future a need for the kingdom to reach its maximum capacity," Al-Falih said. Demand in China is "very healthy" and consumption in India is "very good," he said. Saudi domestic use is rising due to two new refineries in Yanbu and Jubail, which have raised consumption by a combined 800,000 barrels a day, Al-Falih said.
Record Output
Saudi Arabia is producing near record levels as it tries to preserve market share in the face of a worldwide glut. Increased oil supply, including from U.S. shale drillers, triggered a drop in prices of more than 50 percent since their 2014 peak. Saudi Arabia plans to hold informal talks on stabilizing prices with other members of the Organization of Petroleum Exporting Countries in Algeria next month.
Al-Falih's comments show that "Saudi Arabia is not interested for the time being in coming to terms with the impact of low oil prices on producers' economies," said Abdulsamad al-Awadhi, a London-based analyst who served as Kuwait's representative to OPEC from 1980 to 2001. "To state that as long as we have requests from customers for crude we will meet them at any price shows a total disregard for others."
'Price War'
Brent crude was trading $1.24 lower on Wednesday at $47.13 a barrel in London a 4:11 p.m. local time. The international benchmark rose as high as $115.71 a barrel in June 2014.
"There is no price war," Al-Falih said. Saudi Arabia isn't threatened by competition in China, the world's largest energy consumer, and finds it "normal" for producers, including neighboring Russia, to try to maximize their sales there, he said.
The kingdom pumped 10.43 million barrels a day in July compared with a record 10.57 million in the same month of 2015, data compiled by Bloomberg show.
"Saudi Arabia will remain flexible in its petroleum policy," Al-Falih said. "We will meet demand if it rises as was the case for this year and last year."
Saudi Arabian Oil Co., known as Aramco, is negotiating for crude storage projects to help China import more Saudi oil, Al-Falih said. It's also pursuing refinery ventures in China valued at more than $20 billion, he said. Aramco is in advanced talks with China National Petroleum Corp. for two refineries in Yunnan province and hopes to reach an agreement this year, he said. Aramco also has a project with China Petroleum and Chemical Corp., known as Sinopec, for a refinery in Qingdao, he said.