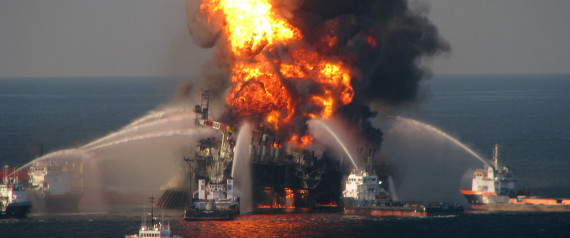 GULF OF MEXICO - APRIL 21: In this handout image provided be the U.S. Coast Guard, fire boat response crews battle the blazing remnants of the off shore oil rig Deepwater Horizon in the Gulf of Mexico on April 21, 2010 near New Orleans, Louisiana. An estimated leak of 1,000 barrels of oil a day are still leaking into the gulf. Multiple Coast Guard helicopters, planes and cutters responded to rescue the Deepwater Horizon's 126 person crew. (Photo by U.S. Coast Guard via Getty Images) | Handout via Getty Images
According to
court documents
, Clean Water Act civil penalties can total up to $1,100 per barrel spilled in the absence of "gross negligence or willful misconduct." Barbier ruled that the discharge of oil into the Gulf in 2010 was the result of negligence, so the maximum penalties will be nearly quadrupled.
BP said it strongly disagrees with the decision issued by the court and will appeal the ruling, according to a statement emailed to The Huffington Post.
"BP believes that the finding that it was grossly negligent with respect to the accident and that its activities at the Macondo well amounted to willful misconduct is not supported by the evidence at trial," it reads in part. "The law is clear that proving gross negligence is a very high bar that was not met in this case."
More from the AP:
NEW ORLEANS (AP) — BP bears the majority of responsibility among the companies involved in the nation's worst offshore oil spill, a federal judge ruled Thursday, citing the energy giant's reckless conduct in a ruling that exposes the company to billions of dollars in penalties.
BP PLC already has agreed to pay billions of dollars in criminal fines and compensation to people and businesses affected by the disaster. But U.S. District Judge Carl Barbier's ruling could nearly quadruple what the London-based company has to pay in civil fines for polluting the Gulf of Mexico during the 2010 spill.
Barbier presided over a trial in 2013 to apportion blame for the spill that spewed oil for 87 days in 2010. Eleven men died after the well blew.
The judge essentially divided blame among the three companies involved in the spill, ruling that BP bears 67 percent of the blame; Swiss-based drilling rig owner Transocean Ltd. takes 30 percent; and Houston-based cement contractor Halliburton Energy Service takes 3 percent.
In his 153-page ruling, Barbier said BP made "profit-driven decisions" during the drilling of the well that led to the deadly blowout.
"These instances of negligence, taken together, evince an extreme deviation from the standard of care and a conscious disregard of known risks," he wrote.